BEIJING - China Cosco Group, the world's second largest shipping company, announced on Tuesday plans to raise as much as 3.9 billion yuan, one day after its real estate subsidiary stunned the public by buying land at a record high price in Beijing.
Cosco hopes to sell 390 million new shares of its Shanghai-listed unit Cosco Shipping Co to shareholders by placing three shares for every 10 shares. "The money would mainly be used to build 18 multi-purpose cargo ships and heavy-lift carriers," said the company.
"The plan is a good investment in the shipbuilding industry, which was already sunk by the global financial crisis," said Wu Yunying, an analyst at Changjiang Securities.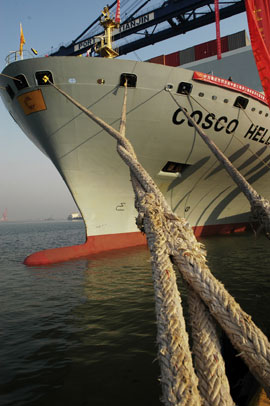 A Cosco container ship is docked at the port of Tianjin. The shipping company plans to sell 390 million new shares to raise as muh as 3.9 billion yuan. XU XIAOCHUN / CHINA FOTO PRESS
But the financing plan has drawn public criticism as Sino-Ocean Land, its Hong Kong-listed real estate subsidiary, on March 15 won the bid on a 169,500 square meter parcel of land located in Beijing's Chaoyang District, for a price of 4.08 billion yuan, or 24,000 yuan per square meter. The company has since been named the capital's new "land king".
Since last year, State-owned companies have been accused of triggering asset bubbles in first-tier cities as they continued to break land price records with abundant capital flow that private players don't have.
Some analysts said the big spending on land and consecutive financing plans may affect its brand image with the public, and regulators may tighten the State-owned company's spending on real estate projects.
However, Wu from Changjiang Securities said: "For Cosco investors, the news could have little impact, as the property sector only accounts for a slice of the group's business."
The real estate business is not a major profit maker for Cosco Group, Zhang Fusheng, vice-president of the group said in an earlier interview with China Daily, without elaborating.
He also denied potential exit from this sector, as the central government suggested State-owned companies consider.
Related readings:


 China Cosco confident on container-rates rise


 COSCO to increase US-Asia cargo rates


 China's COSCO takes over container business at Greek port


 Shippers sail through rough waters by diversifying
According to Zhang, the group made a profit of 600 million yuan last year, with the shipping business making up 70 percent of total revenue.
Its listed unit, Cosco Shipping Co, on Tuesday reported a 90.64 percent slump in net profit to 136 million yuan, and a 43.46 percent decrease in revenue to 3.9 billion yuan in 2009.
The results were within market estimates, said Yu Jianjun, an analyst at Huatai Securities. He predicted that the company's performance will rebound as the shipping industry gradually recovers this year.
"The new fund-raising plan will help strengthen Cosco Shipping's long-term competitiveness," Yu said.