American investment guru Jim Rogers believes US stocks could be entering into a Japan-style Dark Age with falling values until 2030.
The Dow Jones Industrial Average has already fallen 9 percent over the last decade from 11,497 to 10,428 at the beginning of January.
And the former investment partner of George Soros believes the trend could continue for a further 20 years.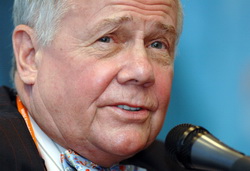 Jim Rogers: US stocks could be entering a Japan-style Dark Age with falling values until 2030.
"It wouldn't surprise me if America doesn't go through a 20 or 30 year period where things just don't go anywhere," he said.
He believes the US could experience something similar to Japan with the Nikkei Dow Index in Jan 2010 standing at 18,300 points, 72.9 percent below its all-time peak of 38,957 in December 1989.
"If you had said to someone at any point in history that your stock market is going to be 75 percent down from where it was 20 years ago, they would have called the police because they would have thought you were nuts," he said.
Rogers, 67, who now lives in Singapore and whose investment books are huge best sellers in China, also raised the specter of the United States defaulting on its $12 trillion of national debt.
The debt, a large part of which is funded by treasury bills bought by China, now stands at its highest level in history.
If the US showed any sign of being unable to meet its obligations, it would send a devastating signal to global equity and financial markets.
"I know some smart people who are convinced that America is going to default within the next couple of years," he said.
Rogers said the United States could effectively default by any number of means, one of which would be it being forced into a position to print bank notes.
"There is more than one way to default and one is to print money so you can pay people back their debts with worthless paper," he said.
His bleak assessment of the future performance of the markets will cause concern among investors.
He said there have been a number of periods in history when the Dow Jones index has performed poorly for a generation.
"There have been many, many cases. American stocks were the same price in 1982 as they were in 1964. For 18 years stocks did nothing and there was particularly bad inflation throughout this period which eroded the value further," he said.
He said the China stock market is now setting the international agenda with other markets falling into line behind it.
"China bottomed in November 2008 and America did so in March 2009. China then peaked in August 2009 and then America peaked in November or December of last year," he said.
Related readings:


 Investors turn to defensive stocks


 Stocks fall on Ping An unlocking


 Finance companies lead drop in stocks


 China's stock market ranks world's No 2

He is not particular concerned about the sharp drop in the Chinese market in January with the Shanghai Composite Index losing 8 percent of its value and falling through the 3,000 barrier. It has now climbed back just above that level.
"Given that the market had doubled from its low, I didn't consider that a bad drop at all, just normal. Don't get me wrong. If you lose 8 percent of the market every month you are going to be broken pretty quickly but it needs to be put in context," he said.
He said the world is going to witness even greater currency turmoil over the next two or three years with the dollar likely to weaken further.
Rogers said it could herald in the era when the renminbi becomes the world's major currency, although it would have to become internationally convertible to achieve that.
"People will become more interested in the yuan because China is the largest creditor nation in the world," he said.
"The Chinese government is aware that it cannot be a dynamic economic power with a blocked currency. They know they have to do something about having a convertible currency. It is just a matter of when."