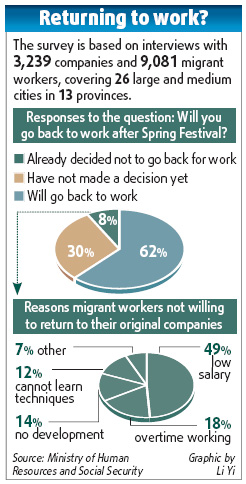 The shortage of migrant workers is likely to continue to escalate in some regions of China, although it is still not a national problem, a government survey has suggested.
The labor demand after the traditional Spring Festival increased by 15 percent compared with the same period last year, with an average number of job vacancies expected to reach 143 for each company, according to the survey released by the Ministry of Human Resources and Social Security on Wednesday.
The poll on the employment situation of migrant workers was based on interviews with 3,239 companies and 9,081 migrant workers covering 26 large- and medium-sized cities in 13 provinces.
With the increasing demand for labor, 70 percent of companies said they will face a labor shortage after the Spring Festival holiday, 5 percent more than last year.
Although the demand for workers has already returned to its former level before the economic downturn, the response of migrant workers has been cool, the poll said.
According to the survey, 8 percent of migrant workers have already decided not to go out for work, while 62 percent have said they will go back to work after the holiday, a year-on-year drop of 6 percent.
The top four reasons for not returning to a place of employment are a low salary, expected overtime, no potential for development and an inability to learn techniques, with 49 percent of respondents saying a low salary was the main reason.
Dou Yan, 33, who earned 1,500 yuan ($175) per month taking care of patients at a hospital in Tianjin municipality, has decided to find another job after the Spring Festival holiday. "I received professional training before I started work. I thought I was a skilled professional. However, I could hardly save any money last year with the low salaries being offered," she said.
Related readings:


 What is behind the labor shortage?


 Manufacturers facing labor shortage


 Labor shortage puts squeeze on Delta


 Labor shortages in coastal regions spread inland

Companies are expected to increase pay by 9 percent, while migrant workers are expecting an extra 5 percent on top of that, which "may have caused the current labor shortage to continue to escalate in future", the survey shows.
Labor shortages in China's coastal regions now have spread inland to East China's Anhui province, Xinhua reported yesterday. While 80 Chinese and foreign enterprises offered 2,500 positions at a job fair recently held in the region, many employers remain unable to find enough workers.
"We planned to recruit 300 people and we prepared cars for the applicants to visit our company and factories, but there are far fewer than we expected," Xinhua quoted an employee of household appliance manufacturer Midea as saying at the fair.
"It is not the right time to evaluate how severe the labor shortage is yet, because many migrant workers usually go out to seek work after the Chinese Lantern Festival," people.com.cn quoted a social security official as saying.
Xinhua