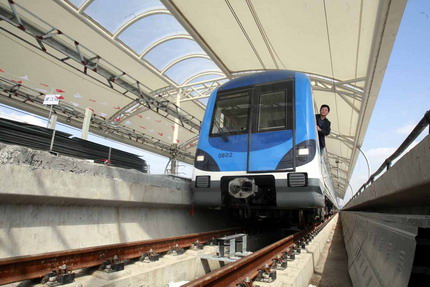 Trial runs of the Shanghai No 8 Subway line. [China Daily] 
China CNR Corp, one of the two largest train manufacturers in the country, is expanding its business in the urban rail transit equipment sector, which is expected to generate 900 billion yuan by 2015 - benefiting from a speed-up in the development of urban rail transportation systems.
China CNR Corp has won a 950 million yuan contract to supply subway cars for the No 8 Subway Line in Shanghai, according to a filing to Shanghai's stock exchange yesterday.
China CNR has agreed to purchase a 44.79 percent equity stake in Shanghai Rail Traffic Equipment Development Co from Shanghai Electric Group for 365 million yuan.
China CNR will also directly inject 85 million yuan into Shanghai Rail Traffic, making it a 50-50 joint venture between Shanghai Electric Group and China CNR.
So far, China CNR controls 55 percent of China's subway car manufacturing market, a senior official of Shanghai Rail Traffic said. Shanghai-based Shanghai Rail - a railway traffic equipment maker - designs, manufactures, distributes and maintains urban mass transit equipment.
Shanghai Electric said cooperating with China CNR in urban rail transit equipment would help boost the expansion of Shanghai Rail in the city's urban rail market and offer the firm access to new markets at home and abroad.
Related readings:


 CREC shares peak on order wins


 China CNR share debut is country's weakest this year


 Train maker CNR raises 13.9b yuan from float


 CNR to issue 3b A shares in Shanghai IPO

Shanghai Rail's sales are likely to reach 5 billion yuan by 2014, up from the current 2 billion yuan, as a result of the cooperation, local media reported.
Acquiring Shanghai Rail will help Beijing-based China CNR enlarge its market share in southern China, where the company has a weaker market position compared with its chief rivals China South Locomotive and Rolling Stock Corp, which has a 62 percent share of Shanghai's subway car market, according to a research note by Sinolink Securities.
The fastest growth in the urban rail transit system will be seen in the Yangtze River Delta and Pearl River Delta regions, both in southern China, the research note said.
China CNR, which has won contracts to supply bullet trains for the now under-construction high-speed railway line between Shanghai and Beijing, now generates less than 5 percent of its business from urban rail.
China's urban rail transit sector is expected to reach a total length of 2,500 km by 2016, creating huge demand for railway-related business. The country's urban railways will span 1,500 km by the end of 2010, generating 36 billion yuan in demand for railway cars, according to statistics provided by China CNR.
China's investment in the railway sector is likely to reach 900 billion yuan by 2015, said Cui Dianguo, chairman of China CNR.