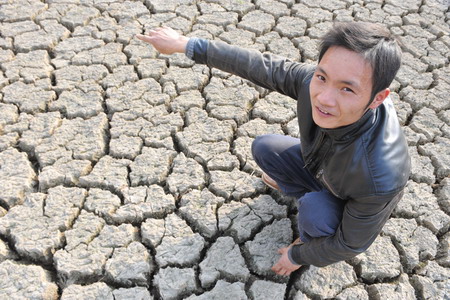 A farmer points to a piece of dried-up land yesterday in a village in Guiyang, capital of Guizhou province. [China Daily] 
At least 11 million people are short of drinking water because of a drought that has hit 15 provinces and autonomous regions, with the weather not expected to improve anytime soon, officials and meteorologists have said.
More than half of those affected by the dry spell are in Yunnan province, which is suffering its worst drought in six decades.
Nearly 6 million people and 4 million heads of livestock in Yunnan do not have adequate drinking water, the provincial civil affairs bureau said yesterday. In total, nearly 14 million people are affected by the drought.
"Senior villagers said the only brook passing our village had never dried before, but it dried out last year," said Xi Xiaoyang from Fanaga village of Luquan county, near Kunming, capital of Yunnan.
The water cellar of her family, which is used to store rainwater for daily use, has been dry for four months.
Every day, Xi and other fellow villagers walk to a neighboring village 4 km away to fetch water from a brook. Water has become so precious for them that the water they wash their face with is recycled to feed their chickens and pigs.
However, no rain is expected to arrive anytime soon and the drought might stretch to May, when the rainy season begins for Yunnan, the provincial meteorological bureau said.
About 85 percent of the crops in the province are also suffering from water shortages.
The drought has caused at least 10 billion yuan ($1.46 billion) in direct economic loss for the province's agricultural sector, said provincial governor Qin Guangrong.
The weather has also halved hydropower generation and affected related enterprises.
Related readings:


 Drought hitting Yunnan


 Severe drought hitting southwest China


 7.5M people lack water due to drought in SW China


 Parched throats struggle to sip water as drought bites

The State flood control and drought relief office yesterday raised the scale of its emergency support to Yunnan to help it counter the disaster, but details on the amount of funds allocated were not available yesterday.
Besides Yunnan, the drought has also hit the Guangxi Zhuang autonomous region and Guizhou, Sichuan, Shanxi, Henan and Shaanxi provinces, as well as the Chongqing municipality.
Official statistics showed that at least 3.56 million hectares of farmland were affected and 11.88 million people and eight million heads of livestock nationwide did not have adequate drinking water as of Feb 20.
Wei Chao'an, deputy minister of agriculture, was quoted by People's Daily yesterday as saying that the latest ministry survey showed winter wheat growth was the worst in five years partly because of the drought.
The ministry has taken measures to fight the drought and help drought-hit areas prepare for planting later to make up for the losses, he said.
But Zhang Hulin, professor with the Party School of Central Committee of CPC, said the impact on crop yield will be contained as the regions affected by the drought are limited.
He suggested that the ministry invest more on infrastructure to help fight drought more effectively.
Jin Zhu contributed to the story