Chinese laborers remain vulnerable to rogue job agencies, warn experts. He Na reports from Hebei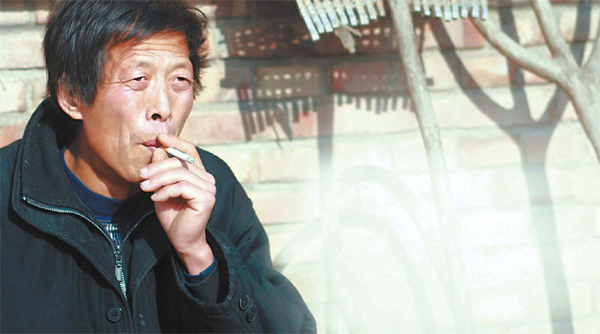 Meng Fanxing, 47, was the eldest of 69 migrant workers who were stranded in Romania. He said his left leg was injured on a construction site in Bucharest and has been unable to work since.[Photo/Feng Yongbin] 
Unlike millions of other migrant workers, Zhu Yu will not go back to his village this Spring Festival. It is not because he cannot get a train ticket or that he is ashamed of his poor roots. No, Zhu fears that if he returns he will be hounded for the vast sums of money he owes friends and relatives.
His dream had been to work in Eastern Europe and return to Hebei province with pocketfuls of money. But the labor agency he trusted to make it a reality could be a fraud.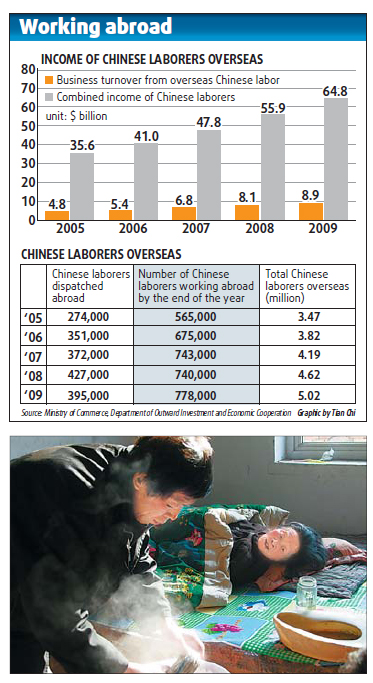 Meng helps care for his paralyzed mother at home in Gucheng county, Hebei province. [Photo/Feng Yongbin]
 
Now, instead of rejoining his family in Gucheng county for the Chinese New Year celebrations, Zhu Yu, 23, and his younger brother must live in self-imposed exile until they have saved enough to pay off their debts.
"When they heard my sons were going to earn money abroad, our relatives and neighbors all came forward to offer us money to help. We promised to pay them back as soon as they came back from Romania," said their father Zhu Zhenfang in Mazhuang village. "Who would have known it was all a big con?
"Relatives and friends often visit our house now they know my sons have returned. They do not say it directly but I know they are trying to find out when they will get their money back."
The Zhu brothers were among 69 Gucheng workers allegedly tricked into paying 80,000 yuan each to secure a place on an overseas job program that promised working visas, decent salaries and free accommodation.
"The intermediate agency said we could work at least three or five years in Romania for 3 euros ($4) an hour, while the contractor would provide free accommodation," said worker Li Baoxu, 46. "They said if we performed well for five years they would even help us get permanent residency in Europe."
But after just three months on a construction project on the outskirts of Bucharest, the capital of Romania, the workers discovered their visas were invalid and they were evicted from their accommodation. Destitute, they were eventually deported back to China last year.
Last December, 52 of the farmers lodged a joint lawsuit against the job agency and are demanding compensation of more than 5.5 million yuan. The entire group has also appealed for help from the provincial government in Shijiazhuang, capital of Hebei.
Zhu Yu and his brother now save every penny they make as waiters in Dezhou, a city in neighboring Shandong province.
"Those bricks piled in the yard, I bought them for repairing the house with the money my sons were expected to bring back," said Zhu Zhenfang as he stood in his home, which he cannot even afford to heat this winter. "Our dreams have been destroyed. The money we make toiling in the cotton and corn fields is just enough to feed my family, so how can we hope to repay these debts?"
The number of Chinese workers taking jobs abroad increases by about 11 percent every year, with more than 850,000 overseas as of last October, a record high, according to Ministry of Commerce figures. These laborers generate a combined average annual income of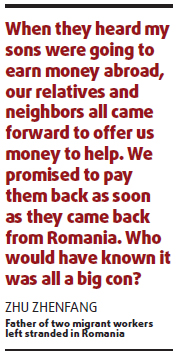 $4 billion, which benefits about four million families directly, said ministry officials.
As more Chinese look to opportunities in other countries, the central government has attempted to enhance laws against rogue job agencies. Yet legal professionals said fraud is still a major risk.
For rural laborers, who are often poorly educated, it can be hard to distinguish sophisticated criminal operations from legitimate ones, said experts.
The intermediate agency, Gucheng Shunda Labor Information Consultation Co Ltd affiliated to China International Enterprises Economic and Trade Co Ltd, recruited the workers in the name of constructing a big supermarket in Romania, said Ping Hongmin, the attorney representing the 52 laborers for Beijing Boru Law Firm.
The group was even given formal interviews and was met by a man claiming to be an Israeli property developer, who later turned out to be a local Romanian, he said.
The farmers all borrowed money from friends and family to pay the 80,000-yuan fee. However, any receipts they were given by the agency had to be handed back at the airport in exchange for their visas and tickets. "We had no choice," said Li Baoxu.
Except a few copies of receipts made by cautious workers, the group does not have a single contract of employment, added lawyer Ping.
Meng Fanxing, 47, of Ruigu village, also said he injured his left leg while working on the supermarket project and is now partially disabled. His family, which includes his paralyzed 83-year-old mother, now survives on just 1,000 yuan a month, which his wife makes working in the city of Cangzhou.