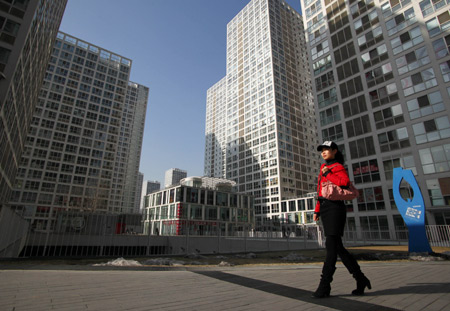 A woman passes Jian Wai Soho community. Beijing plans to collect property tax by the end of this year. [China Daily]
Property tax, an issue debated for almost seven years, suddenly became a reality on Tuesday when authorities revealed it could be imposed as early as the end of next year.
An insider from the Beijing municipal taxation bureau revealed that a department chief from the State Administration of Taxation had mentioned property tax at a conference last year. Tax experts estimated the tax ratio would range from 0.5 to one percent, according to the Beijing Times.
He predicted the quickest length of approval would be 15 months, because the State Administration of Taxation would need more than half a year to resolve the scheme with the Ministry of Finance.
Following that, the scheme would be reported to the State Council. Finally, it needed approval from the National People's Congress, which could take at least eight to nine months.
These factors combined mean that collection of property tax on commercial properties could not start until the end of next year, according to the insider.
Related readings:


 Explain property tax plan


 Potential of property tax


 Beijing property tax revenue drops 10%


 Property tax issue
Property tax, regarded as a key "weapon" to burst the bubbling housing prices, has failed to form a clear definition since it was first put forward at the 16th Plenary Session of the Central Committee of the Communist Party of China in 2003.
According to its equivalent system in western countries, property tax is imposed annually and adjusts its ratio depending on the housing market.
Second-hand property prices in the capital's 320 residential complexes increased an average of 120 percent from 2007 to 2009.
However, the biggest drop was 15 percent during the largest housing market depression at the end of 2008, according to Lianjia, a second-hand property agent tycoon.
Liu Huan, assistant dean with the taxation college of the Central University of Finance and Economics, told METRO that now was the time for Beijing to put property tax into practice.
"The procedure first needs to impose tax on commercial properties, and should then be extended to luxury residential real estate," he said.
He added property tax would combine current tenure tax and construction tax.
"Estimates for property tax in the city's most expensive land, such as that in the Wangfujing area, won't surpass one percent," Liu said.
He added that property tax would largely lower speculation and finally let most people afford housing.
Hong Yamin, vice chairman with the China Real Estate Values Association, said the introduction of property tax might result in a 50 to 70 percent discount in the housing market price, according to the Beijing Times.
Pan Shiyi, a commercial property developer tycoon, said the tax would directly increase speculators' holding costs of housing, and suggested the first property for a family should be tax exempt, according to qianlong.com.