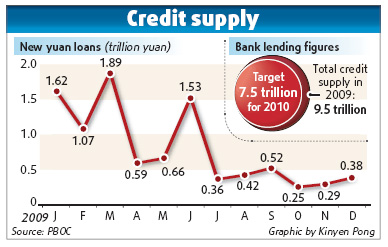 Banking watchdog's move to cut liquidity 'will not derail growth'
The country's banking regulator plans to curb credit growth this year amid rising concerns about asset bubbles in the economy.
"We will continue to control the pace and amount of credit supply this year," Liu Mingkang, chairman of the China Banking Regulatory Commission (CBRC), told participants at the Asian Financial Forum in Hong Kong yesterday.
"New bank lending will come down to around 7.5 trillion yuan ($1.1 trillion) this year from 9.5 trillion last year," he said.
That will translate into a 16-18 percent growth in the country's aggregate outstanding loans this year, down from a 31.7 percent increase last year, he added.
Regulators have already taken some "corrective" actions to curb credit growth, paying special attention to loans extended to real estate projects and those sponsored by local governments, he said.
In the first few days of January, the country witnessed a "relatively strong and quick" lending momentum, he said.
To rein in credit growth, the regulator will introduce new tools such as leverage and liquidity restrictions, he said.
However, on the sidelines of the forum, Liu denied that he had told banks to stop lending, referring to a report that the CBRC had asked several banks to stop extending new loans for the remainder of January.
The China Securities Journal yesterday cited an unidentified source at a mid-sized bank as saying the CBRC had given verbal instructions to the big four State-owned banks and several medium-sized banks to stop extending new loans for the rest of this month.
Investors in Hong Kong and on the mainland were unsettled by Liu's confirmation of regulators' plans to control lending growth despite the fact that the policy move had been widely anticipated after the central bank last week raised by 0.5 percentage point - for the first time in 18 months - the proportion of deposits banks must set aside as reserves.
Investors sold down shares yesterday on worries that the moves to reduce liquidity in the market could dampen economic activity and hurt corporate earnings.
The benchmark Shanghai composite index closed down 95.02 points, or 2.93 percent, at 3,151.85 while the Hang Seng index slumped 391.81 points, or 1.81 percent, to 21,286.17.
However, economists generally believe the country's monetary policy will remain relatively easy this year, with sufficient liquidity to support normal economic growth.
"The lending target of 7.5 trillion yuan still indicates a relatively accommodative monetary environment," Wang Qian, economist for Greater China at JP Morgan, told China Daily.
The moves to reduce liquidity won't derail economic growth, she said. "We view these as part of a gradual normalization process in credit growth."
Last year, massive investment was needed to help sustain economic growth after exports slumped following the global financial crisis.
But with exports gradually recovering and other drivers including domestic consumption extending some support to economic growth, the economy's dependence on credit supply will be reduced, she explained.
Related readings:


 Credit contraction jitters trigger decline in equities


 7.5t yuan of credit supply targeted in 2010


 CBRC: no direct control of banks credit lines


 Economists differ on credit expansion
Part of the 9.5 trillion yuan lending extended by banks last year remains unused and is deposited in banks, she said. These unused funds will most likely be spent this year, augmenting new lending.
"All in all, the liquidity level this year will basically match that of last year," she said.
Another economist, Liu Xin of Bank of Communications (Hong Kong), has a similar view. "The government is unlikely to reverse its accommodative monetary policy any time soon," he said.
The moves to tighten liquidity are aimed at preventing asset bubbles, which are believed to be in their early stages, from bursting, he said.
"The moves will make the financial market uneasy for a while. But they will help the economy to maintain healthy growth in the medium to long term," the economist said.