As bells are going to ring out in Shanghai on Thursday to mark the start of the 100-day countdown to the 2010 World Expo, some fair-related stocks have reason to celebrate after witnessing an "Expo-fever" surge.
Shanghai precious metal retailer Lao Feng Xiang Co saw its shares rise a 10 percent daily limit to close at 32.55 yuan yesterday. Over the last month alone the company's stock has soared 20.5 percent, while the benchmark Shanghai Composite Index rose a mere 4.27 percent during the same period.
Shanghai Jinjiang International Hotels Development Co Ltd is also reaping rewards from Expo fever via its 91.2 percent stake in budget hotel chain, the Jinjiang Inn.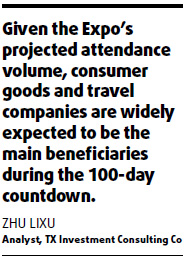 Shanghai Jinjiang, which also manages 900 rooms in an apartment hotel in the Expo Village, saw its stock jump 2.25 percent to close at 29.05 yuan yesterday. Its stocks have gained 47 percent over the last three months.
"Given the Expo's projected attendance volume, consumer goods and travel companies are widely expected to be the main beneficiaries during the 100-day countdown," said Zhu Lixu, an analyst from TX Investment Consulting Co, based in Shanghai.
Guotai Junan Securities estimates that the six-month-long, 2010 World Expo - the first ever hosted by a developing nation - will generate between 60 billion yuan and 100 billion yuan in direct consumption, with hotel, aviation, retail, catering and transportation industries to gain the most.
Shentong Metro Co, which operates Shanghai's main subway line - Metro Line 1 - also surged 10 percent to its daily limit, closing at 15.9 yuan yesterday on the anticipated spike in traffic during the fair and market speculation of a possible asset restructuring. Shentong Metro's shares have jumped 68.3 percent during the last month.
Shanghai Vice-Mayor Yang Xiong estimates passenger numbers are likely to surpass several hundred million during the fair.
Related readings:


 Preparation for 2010 Shanghai Expo in final stage


 Hu calls on whole nation to support Expo


 Shanghai targets economic growth rate of 8% in Expo year

 2010: Year of China World Expo Tourism

Nearly 50 percent of fair attendees are expected to select the subway system as their major means of transportation, analysts project.
Just last week while on a four-day inspection tour, President Hu Jintao visited the Expo site and urged Shanghai residents to do their best to finalize Expo preparations and be a model host city for the event, Xinhua News Agency reported.
Shanghai Securities analyst Tu Jun said the Expo will continue to serve as a catalyst for fair-related stock movement.
"We believe it is highly likely that portfolio investment in Expo-related stocks during the countdown period - from Jan 21 to April 30 - will generate strong investment returns," Tu said.
The 55 "Expo-concept" sector stocks edged up 0.75 percent yesterday, while the benchmark Shanghai Composite Index climbed.