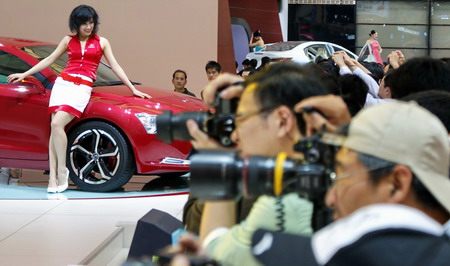 Visitors at the 2009 Shanghai Auto Show. The government's $586 billion stimulus package and a series of industry-friendly policies have helped revive the country's economy amid the global financial crisis. [China Daily]
Economy chugs along at good pace, but some red lights ahead
Even as China is set to achieve its targeted goal of 8 percent growth in gross domestic product (GDP) for 2009, economists have stressed that tackling high inflation should be the top priority for policymakers this year.
Inflation is likely to accelerate to more than 5 percent before the middle of this year and reach 8 percent in the second half, Erwin Sanft, head of mainland and Hong Kong equities research at BNP Paribas, was quoted by Bloomberg as saying yesterday.
China's GDP will surpass the 8 percent year-on-year growth in 2009 and continue to surge in 2010, Yao Jingyuan, chief economist of National Bureau of Statistics, said on Sunday. That confirms the consensus forecast by economists, although none of them are willing to estimate the actual growth figures.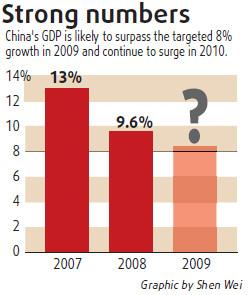 The statistics bureau is scheduled to release the economic data for 2009 on Thursday, but the growth trend has become entrenched since the third quarter of 2009, when GDP expanded by an impressive 8.9 percent year-on-year.
"There are no doubts about robust economic growth this year," said Zhou Qiren, an economics professor at Peking University. Consumption and exports will continue to strengthen as the global economy gets back to near-normal growth, he said.
The country initiated a massive $586 billion stimulus package in late 2008 and launched a series of industry-friendly policies along with a loose monetary policy to pump prime the economy during the global financial crisis.
The strong surge in new bank lending, however, may have sowed seeds for inflation and other problems, such as asset bubbles. China's new bank lending in 2009 nearly doubled to 9.59 trillion yuan ($1.40 trillion) over the previous year.
BNP Paribas said China's inflation rate could touch 8 percent this year. That forecast exceeds most other estimates. Most Chinese economists feel that China would be able to rein in inflation to below 4 percent on average this year.
Li Yining, a senior economist at Peking University, said if inflation soars above 4 percent, the authorities would have to impose tighter measures to stem the growth. "It should be the warning line," he said.
China's central bank last week unexpectedly raised the proportion of deposits that commercial lenders must set aside as the country's credit boom threatens to worsen inflation, which rose by 0.6 percent in November, the first year-on-year growth since last January.
Related readings:


 China starts slowly in 2010 race against inflation


 Macro-economic policies to continue: Premier


 China's economic growth to hit 9% this year: Deutsche Bank


 Economist: CPI likely to grow 3% in 2010
The consumer price index (CPI), the main gauge of inflation, may rise 1.4 percent in December, according to economists surveyed by Bloomberg, intensifying worries that high inflation is coming back as the economy picks up.
Apart from raising banks' reserve requirement ratio, the People's Bank of China, the central bank, raised the three-month central bank bill issuing rate for the first time since August 2009 on Jan 7. Analysts see this as a prelude to a series of tightening monetary policies, including interest rate hikes.
"The central bank is likely to increase interest rates twice by 27 basis points this year after April," said Dong Xian'an, chief macroeconomics analyst with Industrial Securities.
"Gone are the days when we can have economies with high growth rates and inflation as low as 2-3 percent," he said.