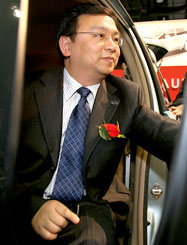 Wang Chuanfu 
Wang Chuanfu has been assiduously cultivating his dream of becoming king carmaker.
The 43-year-old entrepreneur has said he wants to turn his company, BYD Co Ltd, into China's biggest auto producer by 2015 - and the world's by 2025.
Despite his low-key lifestyle, Wang came under the spotlight of public attention after US billionaire investor Warren Buffett bought a 10 percent share of BYD, an electric car and battery maker. Buffett told Fortune magazine: "BYD has a shot at becoming the world's largest automaker, primarily by selling electric cars, as well as a leader in the fast-growing solar power industry."
The robust surge in BYD's stock made Wang the richest person in China in the Forbes China list 2009.
Yet Wang was not to know that BYD, which stands for "Build Your Dreams", would become one of China's largest carmakers when he started the business in 1995.
With 2.5 million yuan raised from a relative, Wang, who had left a job as a government researcher, set out to manufacture rechargeable batteries with the aim of capturing a market then dominated by Japanese companies.
BYD is now the world's largest mobile phone battery producer, taking up about a 30 percent share of the market.
In 2003 Wang made a surprising decision - taking a plunge into the automobile industry, which he knew little about. He thought the company's experience in making rechargeable batteries could provide it with the core competence to develop electric cars.
The company expects to sell 800,000 cars this year. If it succeeds it will have doubled the 400,000 it sold last year.
BYD's first plug-in hybrid, which runs primarily on electricity, was unveiled in 2008 and its first fully electric car, the E6, will be sold in China in the first quarter of this year, Reuters reported last month.
Related readings:


 Robust demand prompts BYD sales target revision


 BYD to spend 1.5b yuan on vehicle testing center


 BYD boss tops Forbes China rich list


 BYD guns for top slot before 2015
Charlie Munger, a business partner of Warren Buffett, attributed the company's success to Wang's "combination of Thomas Edison and Jack Welch". He said Wang was something like the great inventor Edison in solving technical problems and Welch, former CEO of General Electric, in getting done what he needs to do, according to Fortune magazine.
Like Edison, Wang often impresses others with his diligence. He seldom takes a day off and often examines other battery technologies when out and about, discovering how they work.
Wang said he was not interested in accumulating wealth. He often buys a five-yuan meal in the company canteen and lives in a BYD-owned apartment complex with other engineers. He said his only indulgences are a Mercedes and a Lexus. He likes taking their engines apart to see how they work.