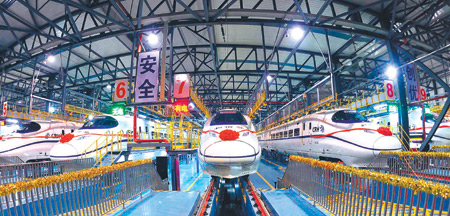 The Wuhan-Guangzhou high-speed railway, with trains running at a world-record 350 km per hour, started operation on Saturday. [China Daily] 
The Wuhan-Guangzhou high-speed railway, arguably the world's fastest train journey at a speed of 350 km/h, started operation on Saturday.
Two passenger trains rolled out of Wuhan Railway Station and Guangzhou North Railway Station at about 9 am and reached their respective terminals within three hours, compared with the previous 10-hour journey.
The service between Wuhan, capital of central Hubei province, and Guangzhou, capital of Guangdong province and a business hub in the southern region, started a trial run on Dec 9 and hit a top speed of 394.2 km/h.
A 600-member delegation from Xianning city boarded the train at 10 am from Xianning North Station to promote tourism and attract investment in Guangzhou. Nearly two hours later, they had to take off winter coats in Guangzhou where the temperature was about 20 C at noon.
"We have long been waiting for the service to start," said Zheng Zengjin, manager of Yaochi Hotel in Xianning and a delegation member.
Related readings:


 Wuhan-Guangzhou bullet train link to hit airlines hard


 Bullet train link to hit airlines hard


 Take a seat on the bullet train


 China breaks another world high-speed train record
"We expect closer cooperation between the Pearl River delta and less developed regions such as Xianning."
In China, traveling by train usually meant an overnight journey.
However, the government launched a major upgrade of the nation's overstretched railway system over the past two decades.
It took more than 20 years to bump up the speed of passenger trains from 43 km/h in 1978 to 100 km/h in 2001.
But it took only nine years to triple it to 350 km/h, said Xu Fangliang, general engineer in charge of designing the Wuhan-Guangzhou high-speed line.
The average speed of the high-speed railway is 243 km/h in Japan, 232 km/h in Germany and 277 km/h in France, he said.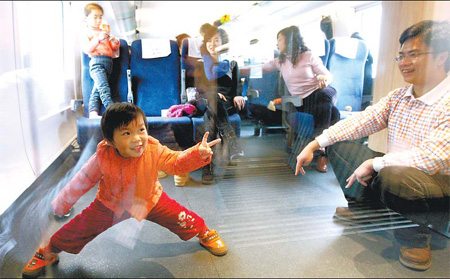 A kid enjoys the ride on the new high-speed Wuhan-Guangzhou rial line on Saturday.
China will build 42 high-speed passenger rail lines with a total length of 13,000 km in the next three years, covering more than 90 percent of the population.
By 2012, trips from Beijing to most provincial capitals would only take between one and eight hours, said Wang Yongping, the Railway Ministry spokesman.
High-speed rail services from Beijing to Hong Kong are expected to open in three years, cutting the journey from 23 hours to eight. The one-way trip from Shanghai to Hong Kong will be shortened to six hours from the current 18, he said.
High-speed trains not only shorten the distance between cities but also change the speed of China's economic growth, said Wang Xiaoguang, a professor with the Chinese Academy of Governance.
China, a vast country that is often worried about the wide income gap between its highly developed coastal areas and the lagging interior, is looking to the railways to help spread the wealth, he said.
China has adopted a strategy of developing the west and invigorating the central region for about 10 years, thus reducing social and economic imbalances.
But the initiative has been hampered by the slow and expensive transport system, both passenger and cargo. However, "things will change in the future as fast-train lines may help reduce these problems", Wang said.
A high-speed rail line linking Zhengzhou, capital of Henan province and Xi'an, the ancient capital in the northwest Shaanxi province, will be opened soon.
"This will encourage more coastal industries to invest in the northwest where resource and labor costs are lower," Wang said.
Experts also said the upgrade to a high-speed network will allow the old lines to be used for cargo, thus helping inland regions to transport its resources and products efficiently to the eastern ports.
"In the peak traffic season such as Spring Festival ... the railway bureaus have to suspend freight transportation to guarantee smooth passenger flow," Wang said.
"The bottleneck is likely to be eliminated. As high-speed passenger trains ease the pressure on traffic, the railways will focus more on cargo transportation."