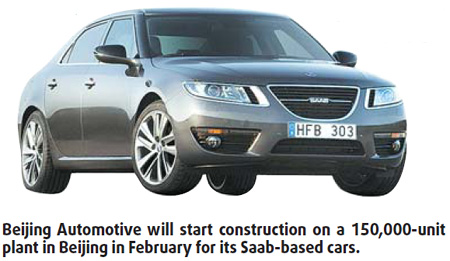 Beijing Automotive Industry Holding Corp, the partner of Daimler AG and Hyundai Motor Corp, plans to invest tens of billions of yuan to accelerate development of its own passenger cars following acquisition of assets and technology from Saab, the Swedish unit of General Motors.
Xu Heyi, chairman of the fifth-biggest Chinese auto group, told China Daily that the company will spend 33 billion yuan over the next three years to develop three to four passenger car models and two to three turbocharged engines based on the acquired Saab 9-5 and 9-3 sedans as well as the Swedish carmaker's engine technologies.
Its car lineup will include mid-sized hatchback and notchback models, compact hatchback and CUV (crossover utility vehicle).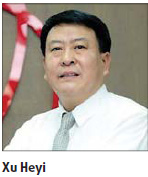 Beijing Automotive will start construction on a 150,000-unit plant in Beijing in February for its Saab-based cars under its own badge Beijing. The Beijing brand was born in 1958, but abandoned soon afterwards.
Earlier this month, the group bought some of Saab's core assets for $200 million, which analysts said was a "very worthy" deal.
Xu said Beijing Automotive will launch two own-brand models in the market at the end of next year, aiming at an annual sales of 100,000 units in 2011.
The group also plans to establish a world-class research and development center in Beijing next year based on Saab technologies, he said.
Beijing Automotive now is the only major Chinese auto group without commercial production of own-brand passenger cars. It now runs a tie-up with Daimler in Beijing, making Mercedes-Benz C-Class cars. Its other joint venture in Beijing with Hyundai produces cars under the South Korean brand.
"Ultimately, we will push our own-brand cars into the global market," he said.
In addition to direct exports, the group will set up joint venture plants abroad with foreign partners to produce its own-brand cars, he said.
Xu said Beijing Automotive will sell 1.24 million vehicles this year, up 60 percent from 2008.
Related readings:


 More firms in the fray for GM's Saab unit


 BAIC buys Saab assets from GM


 BAIC says has acquired some Saab assets


 GM in talks on partial Saab sale to BAIC
He also anticipated that the group would earn 6 billion yuan in profits on sales revenue of 116 billion yuan in 2009.
He said Beijing Automotive will also further expand its commercial vehicle unit Foton.
A deal between Foton and Daimler to form a 50-50 venture to produce medium and heavy-duty trucks in Beijing is expected to gain the nod from regulators "very soon", Xu said.
In a separate deal, Beijing Automotive will soon clinch a an agreement to buy more than 40 percent of Daimler's wagon joint venture in Fujian province from local partner Fujian Motor Industry Corp, Xu said.