Culture authorities will soon have a better idea of the "top of the pops" than music producers thanks to a new content monitoring system for China's karaoke clubs.
The Ministry of Culture is nearing its goal of connecting tens of thousands of venues to its supervisory network, which restricts the songs customers can sing along with.
The system comes in the form of an interactive channel that can record which songs are most popular, as well as bar access to illegal and unlicensed material, said a ministry release sent to China Daily on Friday.
The system has also been touted as a way for karaoke bars to generate more revenue.
The ministry issued a notice to staff nationwide in May last year demanding the National Karaoke Contents Management Service System be installed in all KTV clubs by the end of 2009.
Around 3,000 karaoke bars in 708 counties were included in the network as of this month, said ministry officials.
Karaoke is one of China's most popular pastimes. The Internet-based system is intended to curb unlicensed imports of music products and help prevent disputes over intellectual property rights.
It also enables remote supervision of KTV bars and the system will shut down a business if illegal songs are detected.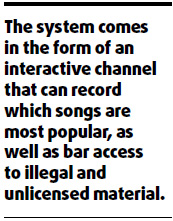 System operators can look up the title and lyrics of a song or video being played, as well as log times, locations and the frequency of selections.
A list of banned songs and videos will be sent to all karaoke clubs, ministry officials said. Newly added but unlicensed programs will also be blocked.
The system has been hailed a success in the crackdown on indecent materials.
Authorities in Chongqing municipality last month accused several KTV clubs of offering "vulgar content". The clubs are now under investigation.
The ministry said the monitoring system is being installed for free, although media reports have shown some skepticism.
Related readings:


 Henan to set up anti-pornography alert in karaoke bars


 China closes first Karaoke bar over copyright infringement


 Illegal karaoke bars shut down in S China city


Association sues 100 Beijing karaoke bars for copyright violation
The channel allows karaoke clubs to run video and subtitle advertisements, while technical support is offered to copyright holders and businesses, Friday's ministry notice said.
In Chongqing, where the system is being showcased as a pilot project, it is even used to promote lotteries, the notice added.
The ministry rejected accusations it will profit from the system.