China's consumer prices are likely to remain stable in the near term and the possibility of serious inflation is "slim", a senior National Development and Reform Commission (NDRC) official said yesterday.
Meanwhile, the State Council, China's Cabinet, said at an executive meeting yesterday that the country will rein in excessively rapid property price increases in some cities, further reducing the possibility of wild price rises.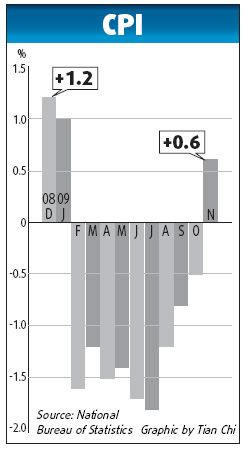 The State Council said it will guarantee the supply of low-cost affordable housing, enhance regulation and help accelerate building of low-priced ordinary housing to stabilize housing prices, which rose by an average 5.7 percent year-on-year in the country's 70 major cities last month.
"It is impossible that there would be an outburst of serious inflation (in the coming months)," said Cao Changqing, head of the price section of the NDRC, the country's top economic planning body.
Prices of food items have been on the rise recently in China, which in addition to an injection of cash from the country's economic stimulus policies, has aroused concern among scholars and the public.
China's November consumer price index (CPI), a measure of inflation, rose by 0.6 percent, the first year-on-year rise in consumer prices since January of this year.
But the NDRC official said that recent increases in food prices would not cause serious inflationary pressure next year.
Ba Shusong, senior economist of the State Council's Development Research Center, said that although the country would still see ample lending next year, its prices would be "mild".
"China's CPI would be around 3 percent for 2010 if the current economic trend continues," he said at a forum held by the China Business Journal on Saturday.
The central government has been raising prices for grain farmers selling to the State grain depots in recent years, which helps farmers but contributes to rising food prices on the market.
But the food price increases have been "mild" and "controllable", Cao said.
Retail prices of rice and flour, for example, rose by 3.3 percent and 4.2 percent last month from January, an NDRC statement said.
Related readings:


 China's inflation perception control should be more forward looking: report


 Fiscal plan supple to inflation


 Managing inflation expectations smartly


 Inflation on the way, but slowly: expert

The statement said that prices for edible oil may temporarily rise sharply due to changes in petroleum prices, the value of the dollar and speculation.
But "overall, the fluctuation of edible oil prices will not have a very serious effect (on the domestic market)".
The administrative body assured the public that the State has ample reserves of food to iron out drastic price fluctuations if prices increase too fast.
It also said that it is not time for another change in Chinese retail fuel prices after a 7-percent increase on Nov 10.
The country has a standing regulation that prices can be changed when the 22-day moving average of worldwide crude oil prices moves beyond 4 percent.
The NDRC also said it will curb "speculation" on the housing market.
The State Council announced last week that individuals have to own their homes for five years, up from the previous minimum of two years, to be eligible for a sales tax exemption, which would raise the cost of speculative deals.