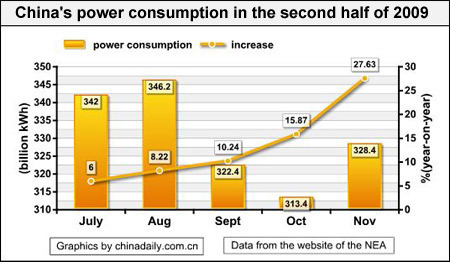 China's power consumption in November rose 27.63 percent year-on-year to 328.39 billion kilowatt-hours (kWh), up for the sixth consecutive month since June, China's National Energy Administration (NEA) announced Monday.
The growth is 11.76 percentage points higher than the October level, which was 5.63 percentage points higher than that in September, said a statement on the NEA website.
Related readings:


 China's power consumption up for 5th consecutive month


 China's power consumption continues to rise in Sept


 Power consumption realizes first positive growth
November consumption was 4.77 percent up from October.
Total power consumption from January to November was 3.299 trillion kWh, up 4.77 percent from the corresponding period last year.
China's industrial sector used 2.44 trillion kWh during the period, up 2.62 percent, according to NEA statistics.
The country's newly-installed power capacity totaled 69 million kWh in the first 11 months, of which hydropower capacity growth accounted for 21.8 percent.
China's industrial output growth accelerated to 19.2 percent in November year-on-year, 13.8 percentage points higher than the level of November last year, according to the National Bureau of Statistics.