Macao casino billionaire Stanley Ho, who has been hospitalized for the past four months, is "recovering nicely" and may be discharged soon, his son Lawrence said in a Bloomberg Television interview.
"Hopefully, some time soon he can come out of the hospital," Lawrence Ho, 32, said. "It's been a few months since his accident. He had two pretty big surgical operations." The son didn't specify what the surgery was for.
Ho, 88, controls SJM Holdings Ltd, the casino operator with the biggest market share in Macao. He has never announced a successor and neither SJM nor Shun Tak Holdings Ltd, the ferry operator and property developer he chairs, has made a statement to the Hong Kong stock exchange on his condition.
"It's quite abnormal for Dr Ho to stay behind the scenes for such a long time," Steven Leung, director of institutional sales at UOB-Kay Hian Ltd in Hong Kong, said.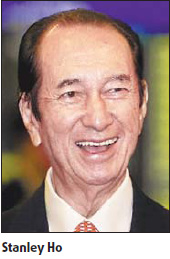 The billionaire had said in a June e-mail to Bloomberg News he was healthy and had no plans to retire. Janet Wong, his spokeswoman, didn't return earlier calls or e-mails seeking an update on his condition since she said in an Aug 13 e-mailed statement that reports of Ho having had a stroke were "unfounded".
SJM fell 0.24 percent to HK$4.25 yesterday in Hong Kong trading, trimming its gain this year to 150 percent. Melco International Holdings Ltd, controlled by Lawrence Ho, declined 1.7 percent to HK$3.94, paring its 2009 climb to 54 percent.
Casino gambling revenue in Macao may rise 8 percent this year as global economies recover, Lawrence Ho said in the Dec 4 interview aired yesterday. "Macao is back on track," he said, after official figures showed third-quarter casino gambling revenue increased 22 percent to 32 billion patacas ($4 billion), the first growth in a year.
The city's casino revenue climbed more than 6 percent in the first 11 months of this year, compared with the same period in 2008, Portuguese news agency Lusa reported on Dec 1, citing data from the operators.
Gross revenue in November was higher than 12 billion patacas ($1.5 billion), with full-year earnings likely to reach a record of more than 120 billion patacas, Lusa said.
Related readings:


 Sands to reopen Macao resort


 Macao's casino receipts hit record high in Oct


 Chinese govt to help finish US casino


 Taiwan lifts casino ban
Ho's four-decade casino monopoly in Macao ended after the government in 2001 accepted bids for rival operators. Six casino companies, including SJM, Las Vegas Sands Corp and Wynn Resorts Ltd eventually won permission to operate in the city, the only place in China where casinos are legal.
Ho has fathered 17 children by four women. Lawrence Ho, his oldest surviving son, is chief executive officer of Melco Crown Entertainment Ltd, a joint venture between his company and Australian billionaire James Packer that is one of the operators permitted to run casinos in Macao.
Melco Crown opened its $2.1 billion City of Dreams casino in June across from Las Vegas Sands Corp's Venetian on Macao's Cotai Strip.
The company has another piece of land where it could build another 1 million square foot hotel or apartments, with more space for casinos, Ho said. That would be the third phase for the City of Dreams, which opened in two phases. The property consists of a 420,000 square foot casino and 1,400 hotel rooms.