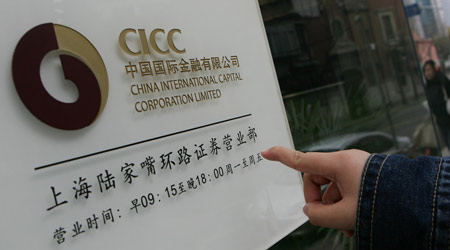 An investor at the CICC brokerage in Shanghai. The bank may see new investors after the stake sale. [ China Daily]
Kohlberg Kravis Roberts & Co (KKR) and Fubon Financial are among the bidders for Morgan Stanley's stake in Chinese investment bank CICC, people familiar with the matter said yesterday, in a deal that could be worth more than $1 billion.
Fubon, Taiwan's No 5 financial conglomerate, has made no secret about its intention to grow in the mainland, especially now that cross-Straits relations are thawing.
When CICC was founded around 14 years ago, Morgan Stanley paid just $37 million for a 34.3 percent piece of the Chinese bank. CICC is now one of the biggest and most successful investment banks in the Chinese mainland.
While the stake has been profitable for Morgan Stanley, the New York bank lacks control of management decisions at CICC.
In December 2007, Morgan Stanley signed an agreement with China Fortune Securities, in an effort to attain a Chinese joint venture that gave it more control over management.
China bars foreign firms from having more than one investment banking venture and limits their holdings to a third of the total. Morgan Stanley's ability to move ahead with the China Fortune deal has been held up by its failure so far to sell the CICC stake.
Last year, Morgan Stanley tried to sell the stake, but the auction failed. It recently relaunched the sale, seeking between $1.2 billion and $1.5 billion, a separate source previously told Reuters.
Other private equity firms that have joined the bidding include Bain Capital and General Atlantic, sources previously told Reuters. Two other buyout firms, TPG and JC Flowers, had also expressed interest in the stake.
Bain Capital's Jonathan Zhu, one of the firm's managing directors in Hong Kong, is a former top banker for Morgan Stanley in Asia.
Morgan Stanley, KKR and Fubon declined to comment. The other private equity firms have declined to comment. The sources have asked not to be identified because they are not allowed to speak on the record about the deal.
Any deal is likely to take several months, as the buyer of the stake in the government-backed bank would have to win official approval.
Related readings:


 Investment bank keen to exit CICC


 Fubon honing mainland expansion


 Fubon Financial reveals big plans in Fujian


 Fubon to increase Xiamen Bank stake
For Fubon, the purchase of a CICC stake would increase its footprint in the mainland. Its subsidiary, Fubon Bank (Hong Kong), owns a 19.99 percent stake in the mainland's Xiamen Commercial Bank.
Fubon's attempt at CICC comes as Taiwan and the mainland have pledged to open their financial markets to each other, highlighting the improving business ties across the Taiwan Strait.
Though both sides have recently signed a financial memorandum of understanding, investors are still waiting for the signing of a wider trade agreement that will allow banks in the mainland and Taiwan to buy stakes in each other.
Fubon and the private equity investors, should any of them sign a deal, would likely want to gain more control over CICC than what Morgan Stanley had.
There is also the possibility that CICC will go public some day. The buyer of the 34.3 percent stake may therefore lack control, but could see a hefty payout later if CICC follows through with its previously stated plans to go public.