Located in the 798 district, Beijing's well-known enclave of galleries and art studios, ebeecake's headquarters - open-style offices with plain baking rooms and an ordinary door decorated with its bee logo - has nothing to do with art or romance, except for the sweet flavors.
However, despite the plain surroundings, Zhao Yue, a patron of the popular cake brand, said that her first impression of ebeecake was elegance.
She has not visited the bakery in the trendy 798 arts district. She ordered a cake online.
"The owner must be stylish, tasteful and artistic to choose such a place to open the bakery," Zhao, an IT office worker, said.
Like other bakeries, ebeecake has established a website to establish its brand in the virtual world, while also eliminating the expense of a large physical store.
Isabell Mo, marketing director for ebeecake, added that less inventory also saves money while guaranteeing the freshness of products made to order.
A startup that just opened for business in July, ebeecake is now the No 1 favorite food brand cited by consumers at dianping.com - the most popular, user-generated restaurant and food review website in China.
A 1.5-pound ebeecake is priced between 185 yuan and 336 yuan, which costs much more than that of its online competitors and physical shop owners.
"Although we have saved on costs, we spend more on the fancy ingredients of our cakes and first-class service, which involves exquisite packaging, refined dishware and, most importantly, efficient delivery," Mo told China Business Weekly.
Cyber economy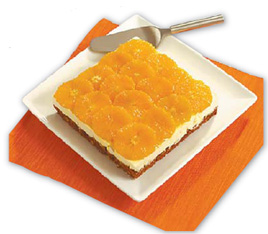 The hurried urban life and convenience of the Internet are leading more consumers to turn to online businesses in China.
With the booming cyber economy, people are finding that doing online business is less time-consuming and more economical.
The bakery sector is among businesses capitalizing on this trend, and includes ebeecake, 21cake and Waffleboy.
"I often order cakes for my colleagues' birthday parties, but I don't choose the same brand every time," said Liu Yin, a marketing assistant at a foreign-run company.
"I like to try many different brands. Waffleboy, 21cake, ebeecake are all my favorites," Liu said.
Waffleboy is a pioneer in the online cake business, opening in January 2001 in Beijing.
"We will stick to the online model in the future," Li Yang, who is in charge of brand promotion for Waffleboy, told China Business Weekly.
Leveraging brands
Traditional chain stores are still the mainstream of China's bakery industry. They include domestic brands Holiland and Weiduomei, as well as Singapore's Bread Talk and South Korea-based Paris Baguette.
They are leveraging various operating models to consolidate their presence.
Privately-owned Holiland, founded in 1992, used franchises to open more than 1,000 stores in 700 cities around China. Franchise loyalty and fast penetration help the owner guarantee cash flow and promote its brand, according to Holiland.
Beijing-based Weiduomei is diversifying its business, with three cafs and two Western-style restaurants.
Bread Talk is focusing on gaining a foothold in high-end shopping malls and office buildings, reinforcing its niche image.
Related readings:


 China's online shopping grows in slowdown


 China's online shopping jumps 128.5% in 2008


 China to be Asia-Pacific's largest online shopping market


 Amazon buys out China online shopping platform
Zhao Liang of Cakeok.cn, a professional website for China's bakery sector that runs business-to-business (B-2-B) and business-to-consumer (B-2-C) operations, said the country's bakery market has been growing at 20 percent year-on-year over the past decade.
Western-style bread and cakes have become daily necessities for many urban consumers, he said.
"Just like other industries, the bakery industry is also at a stage of change, reshuffling and upgrading, since ways of making money in the past are not as effective as before," said Chi Xiangdong, deputy chairman of the Bakery Industrial Association under the All-China Federation of Industry and Commerce.
Chi said that, with fierce competition in a huge market, operators must concentrate on strategy to better position their businesses.
"So we are trying to make a difference, taking advantage of the current e-commerce era," said Mo of Ebeecake.
A netizen called hechuhuakai said at dianping.com that she bought an ebeecake product for her husband's birthday.
"Although it cost me 300 yuan, a little bit expensive, it's worth it, given the on-time delivery and fresh taste," the netizen said.