Beijing residents are taking a collective deep breath and enjoying the best air the city has had for 11 years.
China's capital hit its 2009 target of 260 blue-sky days a staggering 41 days before the end of the year. The capital's environmental protection bureau said on Friday the reduced smog and improved visibility was the result of determined efforts, strict measures and good weather.
Air quality is measured by the air pollution index (API), which monitors the level of five airborne pollutants. When a day's API falls below 100, it can be officially called a blue-sky day.
However, many environmentalists have said the current official air quality monitoring standards do not go far enough and they have called for a new benchmark.
Ma Jun, director of the Institute of Public and Environment Affairs said on Friday that, compared to Europe and North America, China's environmental standards lack important indices.
The current evaluation system looks at sulfur dioxide and PM 10s. PM 10s refer to particles less than 10 micrometers in diameter that infiltrate people's lungs and bloodstream when they are inhaled.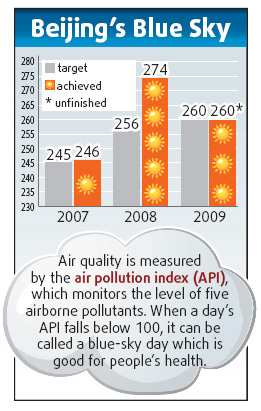 "A good first step would be to include more indices, such as volatile organic compounds (VOCs) and ozone," Ma said.
VOCs are organic compounds that may affect the environment and contribute to sick-building syndrome.
Ma said he would also like to see PM 2.5 particles included in the measurement because the fragments are more dangerous to people's health than PM 10s.
It was not the first time experts had expressed doubts about China's air quality monitoring standards. This year, the US embassy in Beijing set up its own air monitoring station out of concern for the health of its staff. It measures PM 2.5 particles.
The embassy has been updating its private air quality reports every hour on Twitter, which differ from official data.
Friday was generally unhealthy on the Twitter feed, but the capital's environment protection bureau said it was a blue-sky day.
The fact that the embassy is located in the high-traffic central business area may be one of the reasons for the discrepancy, experts say.
Beijing has been working hard to improve its environment in recent years and has taken a series of measures to reduce pollution, including automobile emission reduction, construction site dust reduction and coal pollution reduction.
In addition, polluting chemical factories to the city's southeast have been closed or moved, Wang Dawei, director of the pollution control office at the Beijing Environmental Protection Bureau, said.
Wang said the closure of the Beijing Coking Plant alone cut 3 million annual tons of coal consumption.
Related readings:


 'Carbon credits' scheme to improve air quality


 Beijing air quality best in 10 years


 US embassy relying on own air monitoring system


 Tougher rules for air quality likely soon

In a bid to reduce coal pollution, the capital's governors have urged people to use natural gas instead of coal for heating - 160,000 families changed to the relatively cleaner energy this year, he said.
Prior to the 2008 Olympic Games, many high-polluting plants - including Shougang Group, which produces iron and steel - were moved out of the city.
In addition, 1,462 gas stations were revamped to curb petroleum vaporization.
As of Nov 18, 10,000 high-emission vehicles had been upgraded or driven off the road.
And, partly as a result of the clean air initiatives, Beijing has made the top 10 in the list of the most livable cities in China in a popular annual housing market report launched by the China Academy of Social Sciences.
"Air quality reached a new level after last year's Olympic Games," he said.
"We will strengthen the environmental protection measures to build Beijing into a more livable city."