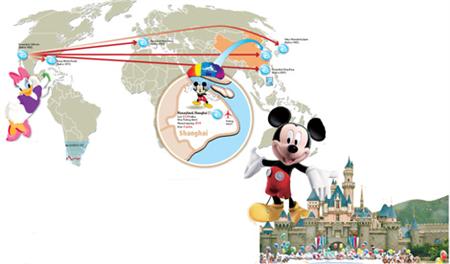 It was a big day for 5-year-old Zhang Xinyu when her mother told her that Mickey Mouse and his friends will have a new home in Shanghai, just miles away from her home.
Dreams of millions of Disney fans in China will come true with the Chinese government's announcement on Nov 4 that a green light has been given to US-based Walt Disney Co to build a Disneyland theme park in the Pudong New District of Shanghai.
But some observers said the new park will pose one more threat to an already embattled amusement park industry.
The first batch of Chinese amusement parks emerged in the 1980s, but most of them have since closed due to fierce market competition and other factors.
"At that time, the government and operators didn't have enough experience, and these parks had a lack of integrated and suitable planning," said Tao Huai, an industry expert and China manager of US-based Premier Rides Inc.
Tao said operators didn't know how to make their parks focus on themes that would attract more tourists instead of just equipping the parks with standard attractions.
Success stories
The Beijing Shijingshan Amusement Park and Shanghai Jinjiang Amusement Park were two success stories at that time, and they still are in operation today.
But as more Chinese people visited first-class theme parks in Europe and the United States, they cultivated more refined tastes, and many old parks back in China gradually lost their appeal, sources said.
Since the mid-1990s, new generations of theme parks have been built in China, including Happy Valley in Beijing, Chendu and Shanghai, Chimelong Park in Guangzhou, Shenzhen Overseas Chinese Town and Suzhou Amusement Land.
Additionally, two port cities, Shenzhen and Tianjin, each bought a retired Soviet aircraft carrier to transform into theme parks.
"Many of them imported advanced concepts of design and planning from abroad, along with fascinating attractions and a scientific management mode," Tao said.
"I could say that some of them are able to compete with their international rivals of medium size," he said.
That is one reason some theme park operators do not feel threatened by another Disneyland in China.
Relatedreadings:


 Govt buys ticket for Disney Shanghai


 Shanghai to build theme park onAndersen's fairy tales


 Future of theme park still shrouded in doubt


 Large theme park to open in Shanghai


 Theme park firm Six Flags files for bankruptcy
"We take Shanghai Disneyland not as a competitor, but as a foreign counterpart that will inspire us to provide better services," said Cui Zhineng, general manager of Jin Jiang Action Park in Shanghai.
Operators of Shanghai Happy Valley, which opened to the public on Sept 12, also said they would welcome another park to stimulate the local tourism market.
"As a home-grown theme park, we have more products based on the Chinese culture and cater to Chinese visitors, and we cost less," said Ren Kelei, chairman of OCT Enterprise Co, which runs Happy Valley.
Parita Chitakasem is research manager of the Singapore office of market research firm Euromonitor International.
"Competition is already hot in China's theme park industry, so Disney will be up against some very large players," Chitakasem said about the next Disneyland in China.