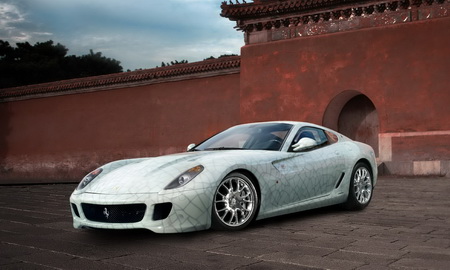 The newly unveiled Ferrari 599 GTB Fiorano China Limited Edition, designed by Chinese artist Lu Hao, is decorated with ancient Ge Kiln pottery patterns.[China Daily]
A Ferrari 599 GTB Fiorano China Limited Edition was sold on Wednesday night for nearly $2 million to an anonymous bidder from Shanghai at an auction in Beijing.
The auction took place at a gala dinner held to celebrate Ferrari's fifth anniversary in China and proceeds from the sale will fund engineering students and teachers from Tsinghua University to study in Milan and at Ferrari's headquarters.
Michael Schumacher had previously unveiled the car designed by Chinese artist Lu Hao and decorated with Song Dynasty (960-1279) Ge Kiln pottery patterns. "It is a very good mix of Chinese inspiration, an artist's eye and Italian technology," said the seven-time Formula 1 champion.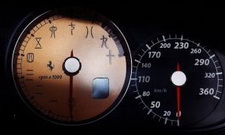 The characters on the dial are in xiaozhuan, an archaic form of Chinese calligraphy.[Agencies]
The 40-year-old Lu is one of China's most influential contemporary artists. His works have been collected in many museums around the world, including the Museum of the University of Cambridge, the Ullens Center for Contemporary Art, and the Singapore Art Museum.
The light blue-colored body of the car looks like a patchwork of jade fragments, with all the characters on the dial and buttons done in xiaozhuan, an archaic form of Chinese calligraphy.
"This work embodies my understanding of the essence of Chinese culture and the Ferrari brand," said Lu.
His commission began when Ferrari decided to make a special model for its Chinese customers this May, and approached Lu. Lu said he had nothing in mind when he got the assignment. One night, after work, he strolled into a small restaurant near his apartment. He asked the waitress to pass him an ashtray and noticed its Ge Kiln pottery pattern. "Suddenly, I knew what I should do."
"There are less than 300 works of Ge Kiln pottery in the world, and each of them is priceless. I wanted to show this," says Lu. He took just five minutes to explain what Ge Kiln pottery is, and why the Chinese love jade and its culture. To his surprise, the Ferrari staff thought highly of his ideas and accepted them enthusiastically.
Related readings:


 Ferrari 599 GTB Fiorano China Limited Edition released in Beijing


 Fiat chief carries a bag full of worries


 Fiat will introduce new car in JV with Guangzhou Auto


 Schumacher set for a spin at the Bird's Nest
Lu says he has always wondered why numbers and pamphlets in a car sold in the Chinese market were in foreign nomenclature.
Taking his chance, Lu changed all the Arabic numbers on the dial in the Ferrari car into xiaozhuan. "Why should these buttons be in English, and those numbers in Arabic? I was determined to change all the foreign elements into Chinese this time," Lu says. He used xiaozhuan, he says, because it is a "language known to those who have a deep understanding of Chinese culture".