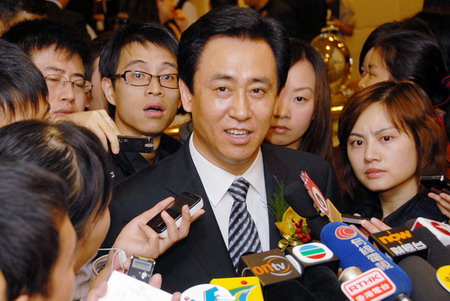 Evergrande Chairman Hui Ka-yan at the HK bourse. [Agencies]
Shares of Evergrande Real Estate soared 34 percent on its trading debut yesterday, shrugging off the cold market reception towards the recent near deluge of property IPOs of mainland real estate players making similar offerings during the same time period.
Evergrande, the largest mainland developer by third-quarter sales, closed at HK$4.7 (61 cents) yesterday, compared with a Hong Kong IPO price of HK$3.5, which has been at the mid-point of the indicative price range.
Several recent mainland property IPOs (initial public offerings) have elicited cold responses as five companies hit the road to make their new share sales pitches in the same month, which some analysts suggest has caused investor fatigue, while others say overpricing has been the problem. Over 20 mainland property companies have raised money in Hong Kong IPOs since 2003, data at the Hong Kong stock exchange show.
Related readings:


 China's property climate index up for sixth straight month


 Evergrande considers Hong Kong float


 Regulator to keep track of realtors


 Vanke, Gemdale report higher income
Shenzhen-based Excellence shelved a Hong Kong IPO that could allow it to raise as much as $1 billion, but "in view of the current market conditions for initial public offerings and with the investors' best interests in mind," the company said, it decided to delay the deal. Similarly, Fujian-based builder Mingfa Group decided to scale down its fund-raising plans.
However, the trading debut of Guangzhou-based Evergrande showed neither signs of investor fatigue yesterday nor pricing problems. Analysts think Evergrande attracted strong demand because of its low valuations. It drew orders for about 10 times the number of shares earmarked for institutional investors, while Hong Kong retail tranche generated orders for about 46 oversubscribed.
Evergrande's offering price represents a P/E (price to earnings) ratio of 5.8 times estimated next year's earnings. That compares with Agile Property's 12 times PE, while China Overseas Land trades at 16 times.
BofA-Merrill Lynch and Goldman Sachs are joint sponsors of the deal, and together with Credit Suisse and BOC International are joint global coordinators and joint bookrunners.
Evergrande has the largest land reserves among mainland property developers, with a total gross floor area (GFA) of about 51.2 million square meters, and with an average cost of about 445 yuan ($57.42) per square meter.
At the end of September, Evergrande had completed development of a total GFA of about 4.1 million square meters. Properties under development and held for future development had a total GFA of 51.2 million square meters.
Profit for 2009, including investment-property revaluation, is expected to rise to 1.03 billion yuan from 632.4 million yuan last year, the company's prospectus said.