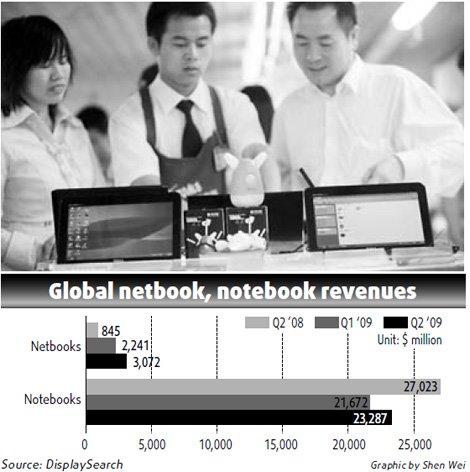 Netbook shipments have started cooling after witnessing an explosive surge since late last year as customers started realizing its limits and looking for portable and affordable alternatives for full-size laptops.
According to Xia Li, vice-president of Lenovo Group, growth in netbook sales during the second half of this year has slowed as consumers have started becoming more rational in their purchases.
"Netbook sales surged in the past as consumers bought the product as gifts or as first laptops," he said. But with consumers starting to realize the limits of the products, the growth has started to slow, Xia said.
He expected the growth would decline back to the industry average of accounting for 20 percent of the overall PC market in China.
Related readings:

 E-book story could be a long, difficult tale

 Powered by 3G, netbooks land a growing mart

 Acer to offer Google's Android in netbook PCs

 Surging netbook sales bring cheer to retailers 
Designed to perform basic tasks like word processing, netbooks have received a good response from consumers all over the world. Ever since Taiwanese firm Asus launched its first netbook Eee PC in 2007, the product has became the market engine of the world's PC industry that was severely impacted by the economic slowdown.
According to figures from research firm DisplaySearch, global revenue from netbook sales reached $3.07 billion in the second quarter of this year, an increase of 264 percent compared with the same period last year.
In China, where telecom operators have pushed the product to promote 3G services, sales of netbooks grew substantially in the first half of this year. It was reported that around 200,000 to 300,000 netbooks are sold in China every month.
Dave Chan, vice-president of Hewlett-Packard China, said the fever for netbooks in the world's second largest PC market is cooling.
"Netbooks have design defects and are not suited for everyone," Chan said. According to him, the product sacrifices too much in performance and lacks long-term appeal.
Simon Ye, an analyst from research firm Gartner, said apart from the limited features netbooks are not so popular with computer makers as they offer lower sales profit margins compared with full-size laptops.
According to DisplaySearch, the average selling price (ASP) for netbooks has dropped almost 30 percent year on year in the second quarter, compared to a 10-percent decline for notebooks. The research firm said that despite rising shipments, sales of netbooks are dragging revenue for the overall laptop market.
Ye said many computer makers are also re-evaluating their netbook strategy as the global PC market has started showing signs of recovery.
The oversupply of netbooks in the first half of this year will also slow its growth in the second half, said Ye.