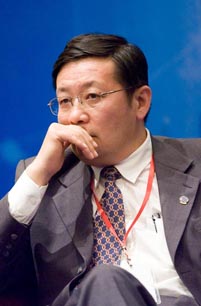 Lou Jiwei
China Investment Corporation (CIC), the nation's $200-billion sovereign wealth fund, will speed up the pace of investment across a broad range of sectors to capitalize on the long-term investment value created by the global financial crisis, the People's Daily reported yesterday, citing CIC Chairman Lou Jiwei.
CIC invested just $4.8 billion outside China last year as it kept its powder dry during the global financial crisis, when asset prices tumbled.
It held nearly 87.4 percent of its overseas investments in cash or cash equivalents last year, Lou said.
He said the pullback in asset, stock and commodity prices caused by the global financial crisis created long-term investment value, and the fund took advantage of stabilizing markets this year to make some investments in a broad range of sectors, the paper reported.
CIC's investment this year included purchase of securities products and direct investment in mining, energy and real estate industries, said Lou.
The sovereign wealth fund's investment decisions are driven by research and asset allocation, he said.
CIC would utilize the beneficial investment opportunities within reasonable levels of risk to create wealth for the country, the chairman said.
Related readings:


 China sovereign fund buys 45% stake in Russian oil company


 CIC to establish rare earth company in Inner Mongolia


 China sovereign fund to take stake in commodities firm


 CIC eyes stake in power firm AES
The new sovereign fund has over 41 percent employees with overseas study or work experience.
CIC reported in August a negative 2.1 percent return on its global portfolio for 2008.
The fund is investing as much overseas each month this year as it did in all of 2008, Lou said earlier in August during a Beijing think-tank forum.