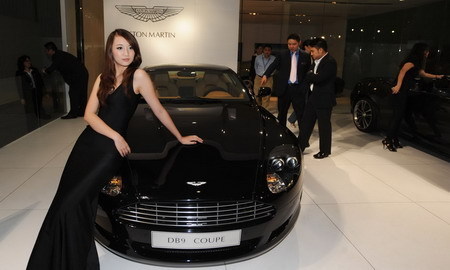 Aston Marin DB9 Coupe at the 12th Chengdu International Motor Show.
[Xinhua]

Bjoern Hauber was surprised when he saw three Mercedes-Benz sports cars zipping past him enroute his journey to the hotel from Chengdu airport on Thursday.
"It's amazing. It's hard to see similar instances in Beijing or Shanghai," said the general manager of sales and marketing with Mercedes-Benz China Ltd.
Hauber was in the western city to launch four Mercedes models at the 12th Chengdu International Motor Show, China's fourth largest auto exhibition which has attracted more than 200 global and domestic automakers who are displaying over 500 models this year.
According to the show's organizers, the week-long Chengdu automobile show which opened on Friday, will have 13 new model debuts, including the Asian premiere of Mercedes E Coupe sports car.
"We have seen rapid market growth in China's second-tier cities such as Chengdu. In the first eight months, our sales in the city surged more than 60 percent over last year, higher than the national average," said Hauber.
Related readings:


 Frankfurt International Auto Show


 China probes auto, chicken imports from US: MOC


 Luxury autos racing toward bright future


 Electric autos set to steal the show at Frankfurt


 Pollution tax on cars not justified
Swedish luxury car brand Volvo said at the show that its sales in Chengdu soared 103 percent year-on-year between January to August, more than twice its growth of 42 percent in the entire Chinese market.
Daniel Kirchert, senior vice-president in charge of marketing with Brilliance BMW told China Daily that the western market has been the German luxury brand's most important market in China.
"Cars sold in Chengdu accounted for one-fourth of our sales in the western market. BMW will introduce more new models for the discerning local consumers and further expand dealerships in the west, and improve customer satisfaction through better services," said Kirchert.
In the recent years, Chengdu's automobile market has maintained a growth rate of more than 20 percent year on year. As of February, the vehicle capacity in the city surpassed 2 million units, vaulting it to the third position behind Beijing and Shanghai.