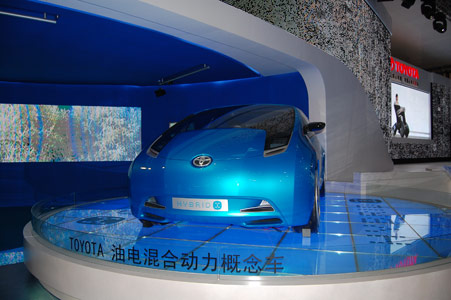 Toyota's hybrid concept car at Beijing 2008 Auto Show.[chinadaily.com.cn]
Not so nice a price
Toyota Motor Corp said in 2004 it would assemble hybrid cars outside Japan for the first time, with local China partner FAW Group.
And supporting Ghosn's point, without tax credits or other state incentives, sales of the locally-made Prius have been half a targeted 3,000 units a year.
Despite the lack of state guidance, GM showcased a hybrid version of its Buick LaCrosse sedan, which is being launched in China this summer, just ahead of the Olympics.
China is the sixth largest market for the BMW brand, the world's biggest luxury carmaker, and the third largest market for the super luxury Rolls-Royce.
But with fuel prices kept artificially low by the state, there is little apparent incentive to buy fuel efficient cars.
But in a car market which grew almost 24 percent in March, faster than the torrid 22 percent in 2007, BMW thinks the time is right for offering hybrid variants like its X6 sports activity coupe into China.
"Coming here to China I think it is a very appropriate product for this market," said Ian Robertson, BMW's new head of sales and marketing.
Local hybrids?
Chinese firms are also preparing their own product offerings.
China South Industries Motor Co introduced its fuel-cell concept model at the Beijing show.
In December, media said China's State-owned Changan Automobile Group was making its own hybrid cars, the first such move by a Chinese automaker.
Battery maker BYD Co Ltd expects to start selling electric-hybrid vehicles domestically by the end of 2008 and in Europe within three years.
But the bet is still on the global leaders to cultivate a market for greener cars in China, with or without state incentives.
"What they might do is copy technology and not pay for the research and development," said John Bonnell, director of Asia Pacific forecasting for JD Powers and Associates.
"It wouldn't be the first time."
"But will a local company suddenly develop technology that is better than something Toyota has done? That would not be likely."