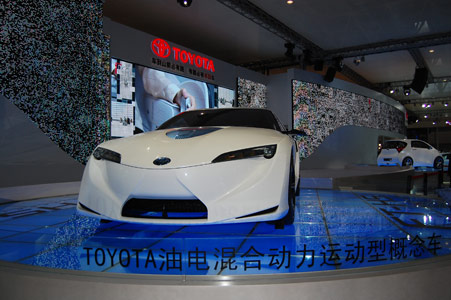 Toyota's hybrid concept car at Beijing 2008 Auto Show. [chinadaily.com.cn]
China is a fast growing auto market that is still far from reaching its potential, granting the country powerful leverage in shaping the world's next generation of eco-friendly cars.
The question of hybrids and other fuel efficient vehicles arises because the world's automakers are gathering this week for the Beijing Auto Show, an event that is growing in clout as the world's second largest auto market is set to be No 1 soon.
But executives are waiting for Chinese officials to lay out a set of incentives that could jump start a product line that is still too pricey even for consumers who want to lighten their carbon foot print.
"It could be huge," said General Motors Corp's chief executive Rick Wagoner. "China could play a significant role."
But what that role will be is still anyone's guess.
Nissan Motor Co chief executive Carlos Ghosn told reporters the Japanese automaker is approaching the Chinese government, among the many it is in talks with, to push for a pure electric vehicle solution to battle pollution.
Fuel economy and emissions improvements with hybrids and clean diesels were not enough to support the expected explosion in China's car ownership over the coming year, said Ghosn.
"We want to own the electric car segment," he said.
Auto penetration in China could expand 10 times what is today and still be less than the average 600 vehicles per 1,000 people in the developed world.