Shanghai closes Xiangyang Road market
(Xinhua)
Updated: 2006-07-01 10:42
The Xiangyang Road market, a downtown outdoor bazaar famous for cheap fake brand goods in Shanghai, was ordered to close Friday, said the municipal government information.
The market, located off the main Huaihai Road in downtown Shanghai, has attracted buyers from both home and abroad looking for deals on counterfeit goods of such world-famous brands as Louis Vuitton, Hermes, Chanel and Prada.
Business transactions were ordered to end at 9:30 p.m. Friday, and all stalls in the market will be cleared out by July 7, according to the city's government.
The market has about 800 shops and had an annual trade volume worth more than 400 million yuan (US$50 million).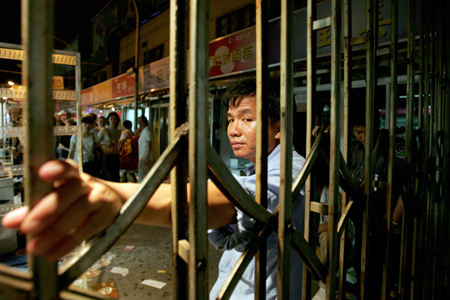 A staff member closes the door of Xiangyang market which was closed at half past nine on Friday evening in Shanghai June 30, 2006. [Reuters]

(For more biz stories, please visit Industry Updates)