While local press hinted that memory of the incident caused the low turnout of the "golden week", Disneyland firmly denied the connection.
The park's executive vice-president Bill Ernest said it's just the beginning of the seven-day vacation and the park was expecting" steady buildup of visitors" over the week.
At least, Mr. Zhao and his families from Shanghai were not intimidated by what occurred in Disneyland in the Chinese New Year.
"We know that, but guess many people won't come here for the sake. That's why here we are," he said while taking photos for his daughter in front of a spring with Mickey's stature.
High Price a Concern
However, Mickey Mouse's magic isn't strong enough to get every mainland tourist forget the ticket incident or overcome the high price of Disneyland ticket for holidays.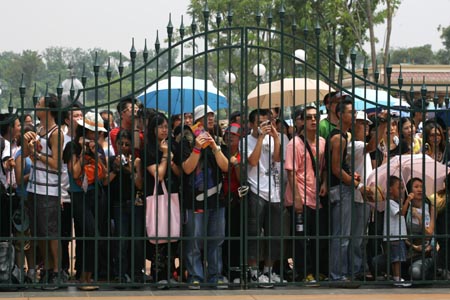 Tourists look into the Disneyland in Hong Kong, September 12, 2005. [newsphoto]

Out of the gate of Disneyland's rivalry, Hong Kong Ocean Park, a woman named Lai said that her family had no plan to visit Disneyland. "We heard it's over packed and expensive," she said with her child around.
When asked whether her daughter wanted to visit Disneyland and have a close look at the Mickey Mouse, Lai answered for the seven-year-old, "No, we are fine here. Disneyland is no fun." While answering so, the mother clutched the kid's hand and used her body hiding the girl.
Disneyland charged 350 HK dollars (45 U.S. dollars) for one adult on special dates such as the "golden week" holidays, while one adult ticket of Ocean Park costs only 185 HK dollars (24 U.S. dollars) all the time.
While Disneyland defending its entrance fee with promise of wonderful experience and quality service, the price factor still weighs heavy in mainland visitor's head, or at least those going to the Ocean Park only.
A tourist guide named Qian said that most of her guests chose Ocean Park rather than Disneyland, for the latter's price ticket was "so high".
"In our place, people have a tight budget when they traveling around," said Qian from the southwestern Sichuan Province.
For the guests' opposition, Qian's travel agency has cut Disneyland from its Hong Kong tour itinerary. The guide will lead a tour to the magic kingdom only when a certain number of guests in a group agreed to pay the extra entrance fee.