Exploring e-commerce's new, untested frontiers
Updated: 2011-12-07 10:46
By Chen Limin (China Daily)
| | | | | | | | | | | |
| --- | --- | --- | --- | --- | --- | --- | --- | --- | --- | --- |
|   | | Comments() | | Print | | Mail | | Large Medium  Small | 分享按钮 | 0 |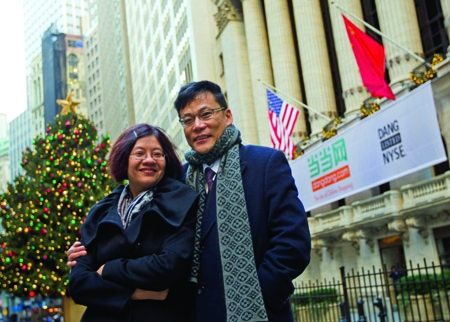 The co-founders of E-Commerce China Dangdang Inc, Li Guoqing and his wife Peggy Yu, outside the New York Stock Exchange after the company's listing last year. [Photo / Agencies]
BEIJING - Wearing a red T-shirt and blue jeans, Li Guoqing hardly looks like a busy, successful Internet entrepreneur.
Ensconced in a soft leather chair and looking much younger than his 47 years, Li - the co-founder and CEO of E-Commerce China Dangdang Inc, an Amazon.com-like website that was listed on the Nasdaq last year - said he never imagined that his venture would be so successful.
"I have to look young and fashionable as we aim to provide affordable fashion," he said. Dangdang, like many of its rivals, has made a name for itself online with low prices and quality goods.
Li, an e-commerce veteran who started Dangdang with his wife in 1999, four years after China joined the Internet, didn't expect that Web users would embrace something that was far beyond their imaginations then.
"For an advertising company, a 20 percent growth rate would be considered excellent, but for an e-commerce site, there are opportunities to even achieve a 100 percent growth rate," he said.
With the number of Internet users in China rocketing from 8.9 million in 1999 to 485 million in June this year, the fortunes of the e-commerce sector have also soared.
The ever-growing pie has nurtured several big e-commerce companies, such as Alibaba Group Holding Ltd and Jingdong Mall, and attracted many smaller players.
Undaunted by so many new competitors, Li said the situation was "challenging as it means that we have to be constantly ahead of the competition and move fast".
Dangdang accounts for one-third of the online book sales in China, but Li said that increased competition meant his company has had to seek even more sources of revenue.
Sometimes it also means that the company has to explore e-commerce frontiers, he said.
To some extent, it was the search for new frontiers that prompted Li to transform his company along the lines of Amazon, and change it from being just an online bookseller to a virtual department store.
"Our aim next year is to make inroads into the online clothing sector," he said. The company plans to tackle a category each year. It has already moved into maternal and child products, skin care, cosmetics and household goods.
With the anticipated entry into clothing next year, Dangdang will be competing with big players like Vancl.com, the country's largest online clothing retailer.
But for Li and his team, the trump card will be low prices. Instead of building an online mall with stores operating separately as Alibaba Group does, Dangdang selects goods and markets them on their own.
Li said this approach helped the company offer high-quality products at rock-bottom prices, while also cutting costs.
"We expect profit margins to be higher than other categories for our own clothing brand," Li said.
The gross profit margin for Dangdang, which isn't yet in the black, fell to 14.3 percent in the second quarter from 19.8 percent a year earlier, partly because of a "price war" with competitors, said Peggy Yu, co-founder and chairwoman of the company.
Li, however, said he was not very worried and that "living frugally and operating efficiently" were the secrets of Dangdang's success.
"We have many ways to lower costs and ensure that our prices are low," he said.
The company has three warehouses in Beijing, Shanghai and Guangzhou, and it will soon add nine more to shorten travel distances for orders. Such moves yield considerable cost savings, Li said.
He added: "Competition is competition, be it vicious or healthy. We are here for the long haul."