Nature, wildlife in focus at Ya'an film week
Share - WeChat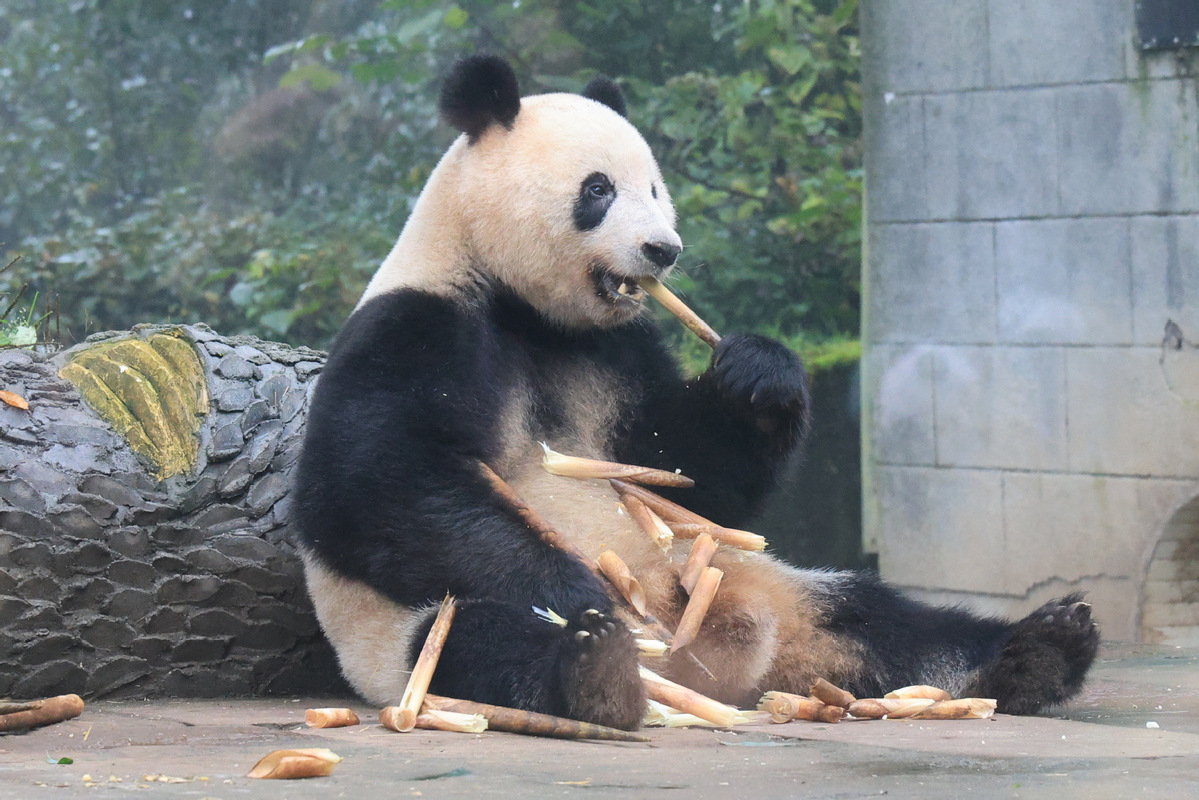 Animal lovers visiting the China Conservation and Research Center for the Giant Panda in Ya'an of Sichuan province earlier this week were in for a pleasant surprise.
They got to see cuddly pandas and watched animal-themed films as part of the 9th Ya'an Panda and Nature Film Week that concluded on Friday.
Sponsored by the China Film Archive and the Ya'an municipal government, the event, which began on Monday, held a series of activities, including a children's film development symposium, film screenings and displays showing paintings of giant pandas.
One of the highlights of the event was that 1,735 films from 109 countries and regions were submitted, of which 104 were selected for the film week, according to its organizing committee.
These selected films featured themes such as animal protection, the environment, rainforest ecology, wildlife and caring for endangered species.
Thanks to the recommendation of experts from various fields and representatives from the film industry, 42 of the films were shown to the public at 48 sites in Ya'an from Monday to Friday, with 57 free screenings, the committee had said.
Jiang Duan, a local resident of Yucheng district of Ya'an, said that he had been deeply moved after watching a film about how local officials in charge of environmental protection and local villagers in a Chinese city work together, overcoming multiple difficulties to improve the quality of water in the village.
Thanks to the hard work of people in charge of environmental protection nationwide, the environment is improving, Jiang said.
The event aimed to promote the concepts of green technology, ecology, low-carbon emissions and environmental protection.
The inherent green status of Ya'an is quite in line with the green, low-carbon and environmentally friendly status advocated by the film week, said Lin Siwei, deputy director of the China Film Archive.
Ya'an will take this film week as an opportunity to make positive contributions to coexistence between humans and nature and accelerate the construction of an important destination for giant panda cultural tourism, Mayor Peng Yingmei said.
The mention of Ya'an should be synonymous with giant pandas. Panda enthusiasts already link the mountainous city to Jean-Pierre-Armand David, a French priest.
A naturalist at the National Museum of Natural History in Paris, David was the first Westerner to discover and document the giant panda in Baoxing, a county under the administration of Ya'an, in 1869.
He sent a panda specimen from the county to the museum's Henri Milne-Edwards, who in 1870 published a paper declaring the panda a new species.
The fourth National Panda Census in 2013 recorded 1,864 wild pandas in China, of which 340 are in Ya'an.
huangzhiling@chinadaily.com.cn