Decoupling would harm economies
Share - WeChat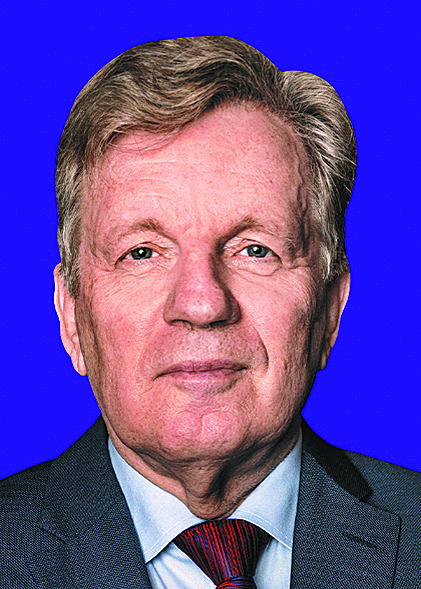 Former Finnish prime minister says trade is the best way toward peace
Decoupling could have adverse effects on the global economy, said Esko Aho, former Finnish prime minister, underlining that both his country and China have benefited from globalization in the past decades.
During an exclusive interview with China Daily in Beijing, the 69-year-old politician who led the Finnish government from 1991 to 1995, lauded the achievements and potential of Sino-Finnish collaboration.
Aho first visited China as a member of Parliament in the late 1980s and returned for a state visit as the Finnish prime minister in 1994. When serving as prime minister, he witnessed significant strides taken toward globalization and collaboration.
"Both Finland and China have benefited a lot from globalization, opening of global markets and technological development, which have also characterized collaboration between the two countries," said Aho, now chairman of the board of directors of the China Office of Finnish Industries.
In 1953, the signing of an intergovernmental trade agreement with China made Finland the first country in the West to do so.
"When we established our commercial relations, a Finnish cultural delegation also came to visit China for the first time. So, trade and culture were coming together from Finland to China in 1953. And since then, I think there are similarities between the two sides. Both Finland and China have become open, have economies extremely dependent on foreign trade, and are certainly technologically advanced," said Aho.
This year marks the 70th anniversary of the signing of the accord. Statistics from Finnish Customs show that the trade volume between China and Finland reached 12.5 billion euros ($13.4 billion) in 2022, accounting for 7.2 percent of Finland's trade volume. China has become Finland's third-largest trade partner, and has remained Finland's most significant Asian trading partner for two decades.
"We are importing lots of industrial products from China. Chinese manufacturing capacity is so huge that it will play a role. And at the same time, we are selling to China, especially paper and pulp products, and certain high technologies and so on," said Aho.
When asked about the potential areas for Sino-Finnish collaboration, he expressed confidence in opportunities presented by green transitions.
"I think we have a lot of opportunities in green transition. And there are many aspects. One is the energy aspect. China is very good in wind power, which is very important for us in Finland, while bio-economy is where Finland is extremely advanced. Together we can promote green transition in a substantial way," he said.
"Another aspect is integrating digital technologies into energy supply and distribution, which can help save a lot of energy when doing that more efficiently. And that's why I think that area has huge potential for Finland and China to do a lot together," he added.
Five Sino-Finnish energy demonstration projects were unveiled in 2022 by China's National Energy Administration and Finland's Ministry of Economic Affairs and Employment, with a focus on renewable and low-emission energy production sectors such as biofuels, hydrogen energy and wind power.
Apart from green transition, Aho listed the "silver economy" as a major area, as the aging population poses a challenge for the world while also offering a business opportunity.
While hailing the achievements brought by globalization, he also expressed concerns that geopolitical problems are leading some governments to take the strategy of decoupling from other countries, which poses challenges to the world.
"But I don't believe that these problems will stop common interests to promote trade. There are going to be limitations. And I think we have our interest to keep those limitations on their reasonable level. It's very important that political decision-makers understand what are the limits for that, so that we are not going to create big problems in the global economy," he warned.
"It has been forgotten that trade is the best method to promote peace," he said.