Zhang back in the swing after finding his mojo in Hangzhou
Share - WeChat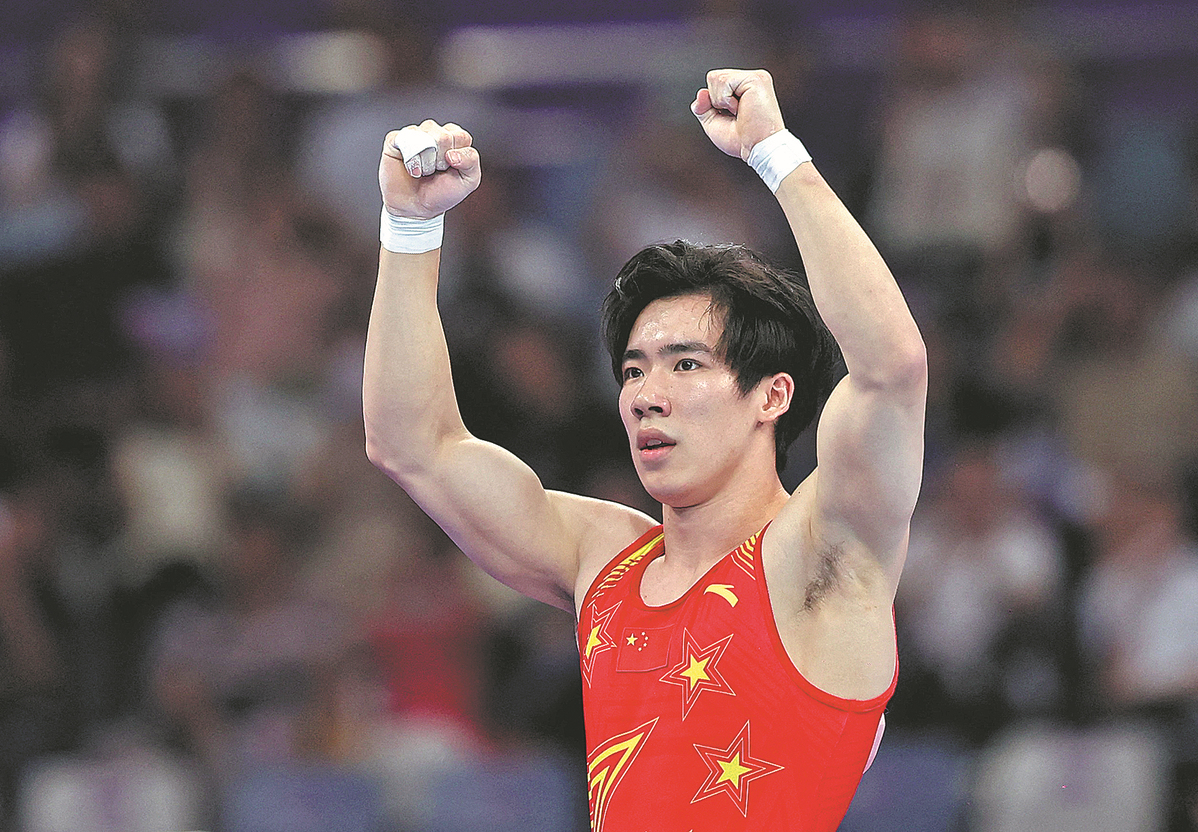 World champion sets sights on Olympic glory after fruitful Asian Games campaign
Winning any individual medal was far from a certainty for Chinese artistic gymnastics star Zhang Boheng at the 19th Asian Games, so a haul of three golds and one silver represented a massive confidence boost for the young world champion ahead of next year's Paris Olympics.
"Before I came here, my goal was just the team gold and all-around gold. In terms of other individual competitions, I didn't put too much pressure on myself, so the result was truly beyond my expectations," Zhang told China Daily in an exclusive interview in Hangzhou.
Having secured the men's team and all-around titles, Zhang began the individual events well below his lofty standards before a brilliant performance on the horizontal bar final on Friday saw him surge to gold with a score of 15.100.
"That has given me confidence for Paris, where I hope I can top the podium, first of all in the team and all-around competitions," Zhang said. "It's clear that in the individual events, I still need to improve. I think, in terms of the Paris Games, my mentality is going to be key."
Zhang has been one of China's brightest gymnastics stars since he was crowned world champion in 2021. The 23-year-old is regarded as the nearest challenger to Japanese sensation Daiki Hashimoto, a two-time champion at the Tokyo Olympics. Hashimoto gave the Asian Games a miss to instead compete in the Artistic Gymnastics World Championships in Antwerp, Belgium.
"It's a shame that Hashimoto did not compete at the Hangzhou Asian Games. Now I need to try my best to complete my goals, stay focused and work on my weaknesses," said Zhang.
Despite Harimoto's absence in Hangzhou, Zhang's impressive Asiad campaign whet the appetite for their eagerly anticipated Olympic showdown next year.
Arturs Mickevics, president of the men's technical committee of the International Gymnastics Federation, reckons that the rivalry is shaping up to be a highlight of the Paris Games.
"I saw the results (from the Asian Games) and I know both young men. They are still developing... I strongly believe that their one-on-one competition (in the men's all around) during the Olympics will be amazing," said Mickevics at a news conference in Antwerp on Friday.
"Looking forward to the encounter, it does not matter who scores more. Two real warriors will fight. I truly believe that it's important to have fun. They did and will do. We're looking forward to seeing the competition between these two strongest men."
Regardless of what the future holds, Zhang hailed his Hangzhou trip as a highly enjoyable experience, and was delighted to put on a show for the home fans.
"The Asian Games gold medal is a lot heavier and bigger than I imagined. But it's not just about its size. The medals I've won here mean a lot to me. All my rivals are competitive, and it has not been easy for me to win," said Zhang.
"This is just the second time that I've competed at a major championship at home. So it's always great for me to hear the cheers and feel the passion from the home crowd. I was thrilled that the local fans were so close to the action in the arena."
Doing the nation proud obviously means a great deal to Zhang.
"At the Asian Games, especially when you compete in your home nation, you feel a great sense of honor. You don't just represent yourself, you represent the nation," he said. "I was very proud when I heard the national anthem played as I stood on the highest podium."
It's moments like this that make all the tough times worthwhile for Zhang, who has persevered in the highly demanding sport amid plenty of setbacks and doubts.
"Honestly speaking, gymnastics was just like a hobby for me when I was a kid, and at that time I never thought it could be a career for me," he said.
"But when I was about 16, I broke my leg. I was at a crossroads, and I thought I should either just give up or treat gymnastics as a serious business. I told myself it's time to stop playing around and I need to push myself to the limit."
Now a world and Asian champion, Zhang has honed a mental toughness to match his chiseled physique.
"After years of training, I know my body so well and know what my limits are. I've also learned how to adjust my mentality. I was a little bit impetuous as a kid, so now I always tell myself to think more," said Zhang.
"The build-up to the Asiad was pretty tough, because I haven't been in top shape and I had to adjust as best as I could. Some minor hip injuries were bothering me too, but I managed to get through it."
Chinese fans will hope that same resolve and determination can yield more glory in Paris next year.
Most Popular
Highlights
What's Hot