Serving up a landmark victory
Share - WeChat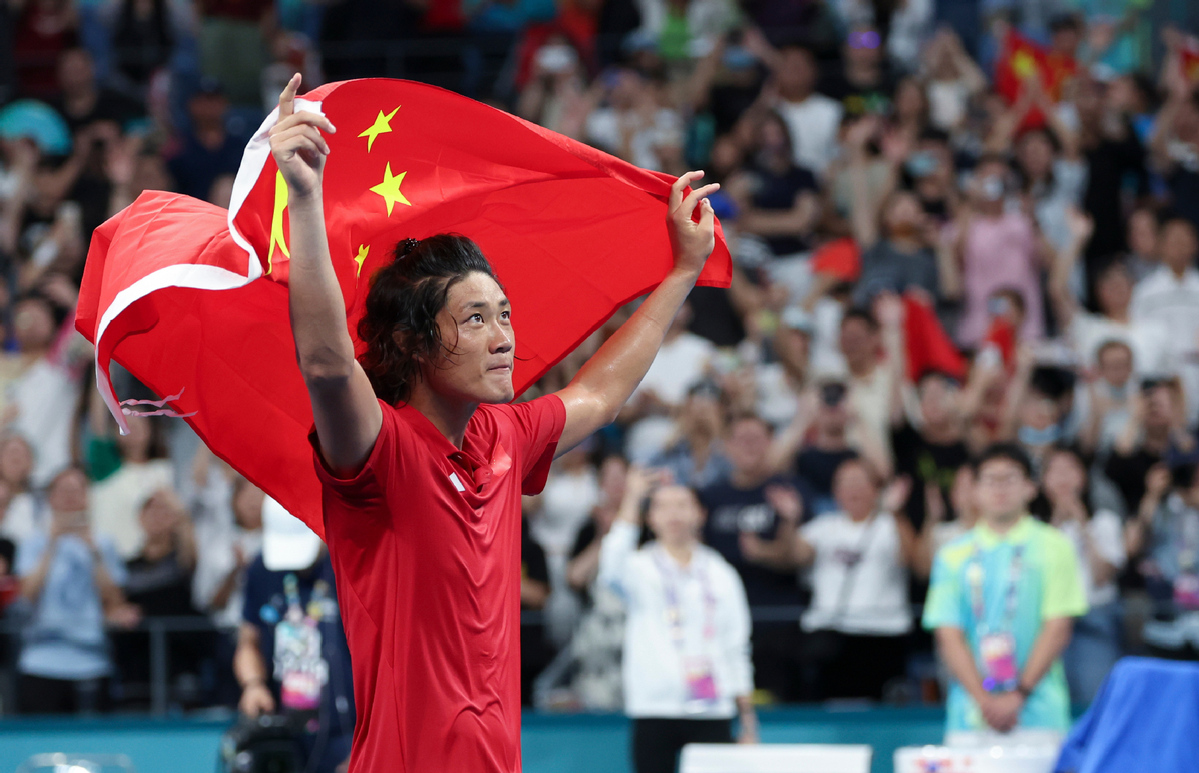 Zhang Zhizhen secures nation's first Asiad men's singles gold in 29 years
China's No 1 men's tennis player Zhang Zhizhen said the huge support of the home fans helped propel him to shrug off the pressure and win the Asian Games title on Saturday at the Hangzhou Olympic Sports Centre Tennis Centre.
The world No 60 fought back from a slow start that saw him fall behind 1-4 to Japan's Yosuke Watanuki in the first set, to claim a 6-4, 7-6 victory, becoming the first Chinese men's singles tennis champion at the Asian Games since 1994.
"A lot of people have come to watch my matches since I arrived in Hangzhou," said Zhang. "I did not expect that before I came to play. That's proof that the grassroots of the sport is getting better here in China. It's also a big motivation to players like us."
Just last month, the 26-year-old Zhang made history by becoming the first Chinese man to defeat a top-five player, Casper Ruud, at the US Open, which propelled him into the last 32 of the tournament. He replicated this feat at this year's French Open, reaching the same stage.
Following his sluggish opening against 77th-ranked Watanuki, in front of a roaring home crowd, Zhang won five games in a row to secure the first set.
In the second set, he held his serve for a crucial 4-3 lead in the pivotal seventh game.
The intense battle between the two continued to a tiebreak, where Zhang eventually capitalized on his third match point, flinging his racket in exuberant celebration.
"This was my first encounter with Watanuki, and I had prepared thoroughly for the match. He played exceptionally well, especially with his aggressive style, which put considerable pressure on me. Fortunately, I managed to adjust my game and find a way to turn things around," said Zhang.
"In the first set I told myself to calm down because I was rushing too much. And in the second set, be patient, keep going and try to create chances."
"It's been a very, very tough week, not just this match, but very tough from the first match onwards.
"However, I'm super happy that, from the beginning of the first match, step by step, I've played better and better tennis."
Despite rushing to an early, seemingly commanding, lead in the initial set, and even fighting to secure a set point in the second, Watanuki couldn't capitalize, and Zhang emerged victorious in just under two hours.
"A silver medal is good, but right now it's a little bit mentally tough for me," said Watanuki.
"However, I have to move forward. Because I lost today, I have to get more wins to increase my ranking so I can qualify for Paris (2024 Olympic Games)."
Most Popular
Highlights
What's Hot