Zheng savors success after 'bumpy road' to podium
Share - WeChat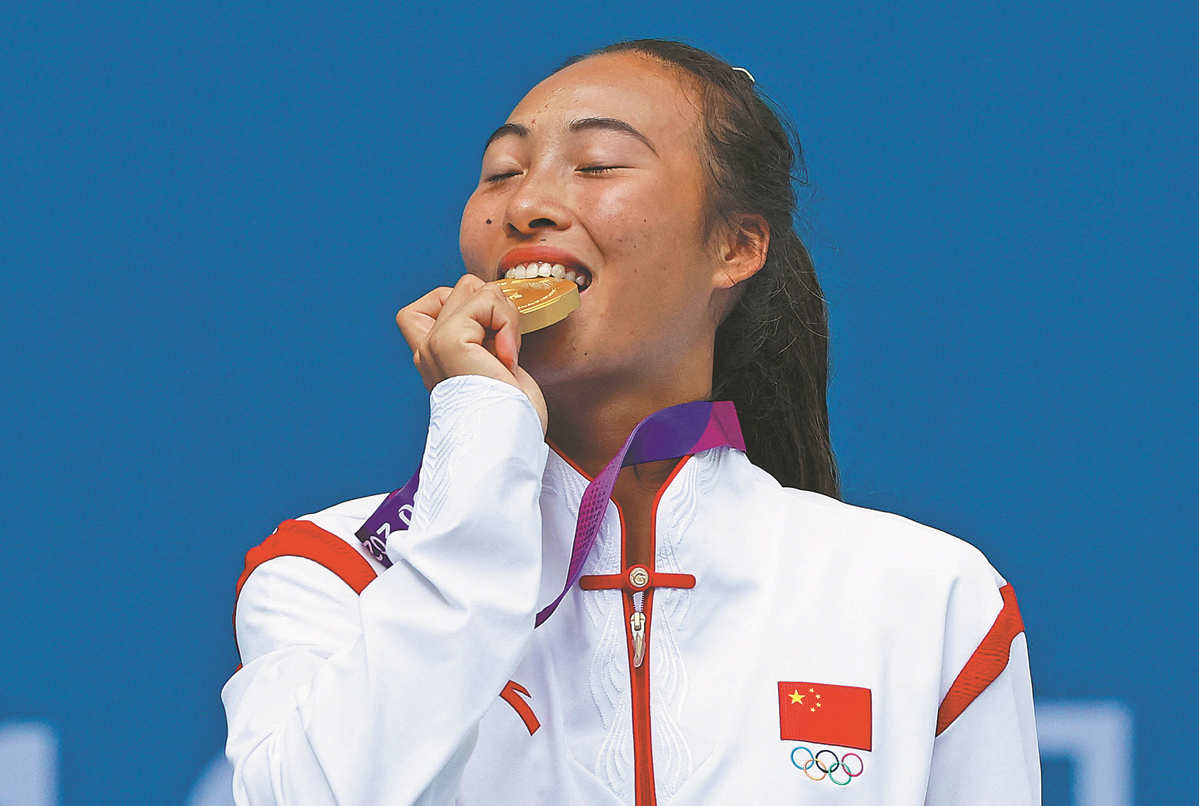 Rising Chinese tennis star Zheng Qinwen believes a "more mature" mindset has helped her quickly bounce back from a slow start this season to win women's singles gold at the Hangzhou Games on Friday.
"This year has been a bumpy road for me, especially the beginning. I'm not sure if I'm making progress, but I think I'm more mature, and I don't care too much about the results," Zheng said, after beating compatriot Zhu Lin to seal the title 6-2, 6-4 in 1 hour and 44 minutes.
The 20-year-old Zheng has enjoyed a breakthrough year.
She beat world No 7 Ons Jabeur en route to the last eight at the US Open earlier this month before being ousted by eventual runner-up Aryna Sabalenka.
"At the beginning of the year, I focused too much on results, but now I only focus on each match and each day," Zheng said. "Winning gold today sets the path for me to do better tomorrow and has boosted my confidence as well."
In May, she reached a career-high world ranking of 19th. Two months later, she took her first WTA title.
Zheng's power and precision proved decisive against Zhu in a final between the two top seeds.
"The feeling was incredible. I'm really happy about that. That was not an easy match today and also yesterday (in semifinal). All of them are good competitors," Zheng said after high-fiving fans.
Zheng and other Chinese women tennis players have forged a strong contingent this year, winning titles and beating higher-ranked opponents. She hopes to see more such progress in the future and is eyeing more breakthroughs at next year's Olympics in Paris.
"I think Chinese women's tennis is developing for the better. The fact that we are both in this final is a very clear example of that," she said.
"I think Paris 2024 will be totally different, because we will be facing opponents from Europe and the United States. So, it will be a bigger challenge for us. We need to better prepare for that."
Most Popular
Highlights
What's Hot