Sevens heaven for brave China
Share - WeChat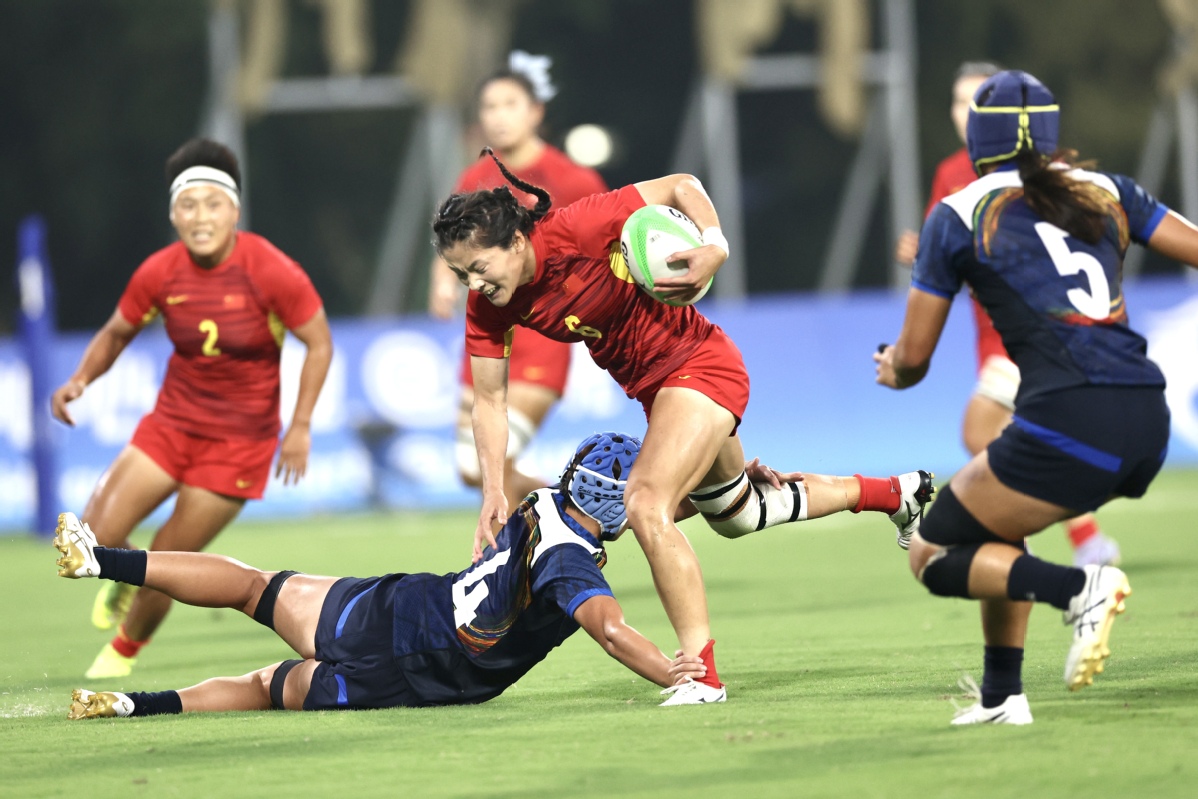 Women's rugby team produces heroic effort to win Asian title as players hope triumph entices more girls to game
Fierce competition, lightning-fast sprints, heavy collisions and nimble evasion... Rugby has forever been a sport for the brave of heart.
In the women's rugby sevens final at the 19th Asian Games in Hangzhou, held at Cangqian Athletics Field at Hangzhou Normal University on Tuesday, Team China undoubtedly displayed remarkable courage.
They triumphed over defending champion Japan 22-21 in an absorbing affair, exacting revenge for their defeat five years ago at the Asian Games in Jakarta when they suffered a 5-7 loss.
China's women have now competed in all four rugby sevens finals since joining the Asian Games roster, securing two gold and two silver medals, underscoring their dominant position at the continental sports gala.
"We had some experienced players who couldn't play due to injuries. Although we secured a victory today, it doesn't necessarily represent our full strength," said Lu Zhuan, head of the team's Chinese coaching staff.
On the other hand, the Japanese were able to field their "strongest lineup" in the final, according to Lu, with the team averaging around 38 caps per player.
Experience didn't win the day, however, in a hard-fought thriller of a game.
The Chinese team emphatically threw down the gauntlet, surging to a commanding 22-0 halftime lead. However, in the second half, the Chinese were reduced to six players when the Canadian referee, Craig Chan, brandished a red card for what was a reckless, head-high tackle, and center Wang Wanyu was sent for an early bath.
That opened the door for the Japanese, who mounted a formidable comeback. However, despite the one-player disadvantage, the determined Chinese women held on against the onslaught in a nail-biting five more minutes to secure the gold medal by a single point.
China's star player, Chen Yike, was still shaking with nerves after the final whistle. "We prepared for the game for a long time, because the Japanese team is a strong opponent and we knew it would be a close match," said Chen.
Over the course of the Games, Chen has emerged as one of the top performers in women's rugby sevens, scoring 44 points and ranking second and third in tries and conversions, respectively.
Chen praised Japan as an incredibly resilient team, refusing to ease up, even when it was so far behind on the scoreboard, consistently fighting until the final whistle. "This is a quality worth learning from," she said.
Chen was proud of how Team China adapted after Wang's red card. "Our usual training also takes into account such situations, always having a plan for when a player gets sent off, and today that came in handy," she said.
Following the red card, Wang had to witness the final minutes of the game from the bench. She could hardly bear to watch the closing seconds.
Her emotions were a mixture of joy and regret. "I'm deeply moved, but I also have a sense that I didn't perform to my best. While I'm genuinely happy, there's still a lingering feeling of guilt," she admitted.
"Four years ago, we were two points short of victory, but today, we've finally achieved it. I've always had a deep love for this sport, and this gold medal makes me cherish rugby even more," Wang said.
Wang's boyfriend, along with her parents and other relatives, were in the stands cheering for her. After the victory, her boyfriend shouted, "I love you," and presented her with a bouquet of roses. "I'm touched. They support me and encourage me a lot," Wang said.
Wang had been experiencing knee pain for the past two weeks and had to take painkillers to get through the game.
"After the game, I can finally spend some quality time with my family to celebrate the Mid-Autumn Festival, and I will also prioritize getting proper treatment for my knees," she said.
The resounding cheers from the packed stadium served as a tremendous source of motivation for the entire team. Team captain Yan Meiling expressed her deep appreciation for the enthusiastic support.
"We've never played a match like this in our home country, and witnessing a stadium full of spectators only strengthened our determination and confidence to secure victory," she remarked.
For Liu Xiaoqian, competing in her home country during this Asian Games felt different from the previous Asiad.
She said it felt like it was not just their squad of 12 players competing, but also the entire nation rallying behind them.
"We could really feel the atmosphere created by the crowd, and the volunteers from Hangzhou Normal University provided us with the greatest encouragement and support," Liu added.
Compared to the likes of women's basketball and volleyball, women's rugby sevens is still considered something of a minority sport in China. In Japan, many athletes have been playing rugby since childhood, whereas in China many transition to rugby from other sports such as handball or track and field.
However, over the past decade, this team has consistently achieved remarkable results on the international stage.
At the Tokyo Olympics, the Chinese women's rugby sevens team achieved their long-held dream of competing beyond Asia, marking a historic moment as they proudly took to the Olympic stage and progressed into the quarterfinals.
Jiangsu has emerged as a hotbed of women's rugby talent. Among the 12 squad members of the gold medal-winning team, five hail from the province.
At this year's national championship and the national champions tournament, the Jiangsu women's rugby team achieved a remarkable double, topping both competitions.
Their young talent pool is also brimming with potential — the girls' team from Jiangyin Xu Xiake Middle School won this year's national youth rugby series finals.
According to Zhou Zheng, an official from Jiangsu Sports Bureau, since the previous Olympic cycle, the Jiangsu women's rugby team has established a collaborative partnership with the national team.
Both parties have actively worked together in terms of providing training facilities, coaches and athletes, creating numerous opportunities for talent development within the Jiangsu team, Zhou Zheng explained.
Chen, who plies her rugby trade for Jiangsu, thinks many girls may be scared away when they see how physical the sport is, but she sees it as a game of bravery in which girls can demonstrate courage.
"Some clubs have already established introductory rugby programs offering a more gentle approach to the sport. I suggest that everyone consider starting with these programs as a way to ease into the game," she said.
China's Zhou Yan used to practice track and field and switched to rugby in 2014.
"Compared to other countries, rugby is still relatively unknown in China. I hope to use my victories to promote the development of the sport," Zhou Yan said. "Rugby is a truly captivating game."
China and Japan will soon face off again. The Asian rugby sevens qualifiers for the Paris 2024 Olympics are scheduled to take place in Osaka in November. From the 24 teams competing there, only the winner will secure a ticket to France.
At Tokyo 2020, China beat Japan 29-0, eventually finishing seventh.
Now, all the Chinese players have their sights set on earning a spot in Paris, and coach Lu is feeling confident. "As we look ahead to Olympics, I firmly believe that our performance will surpass what we have achieved today," he said.