Getting her kicks
Share - WeChat After bringing home 57kg gold, China's taekwondo champion Luo Zongshi is enjoying taking in the sights of the host city before focusing on Olympic glory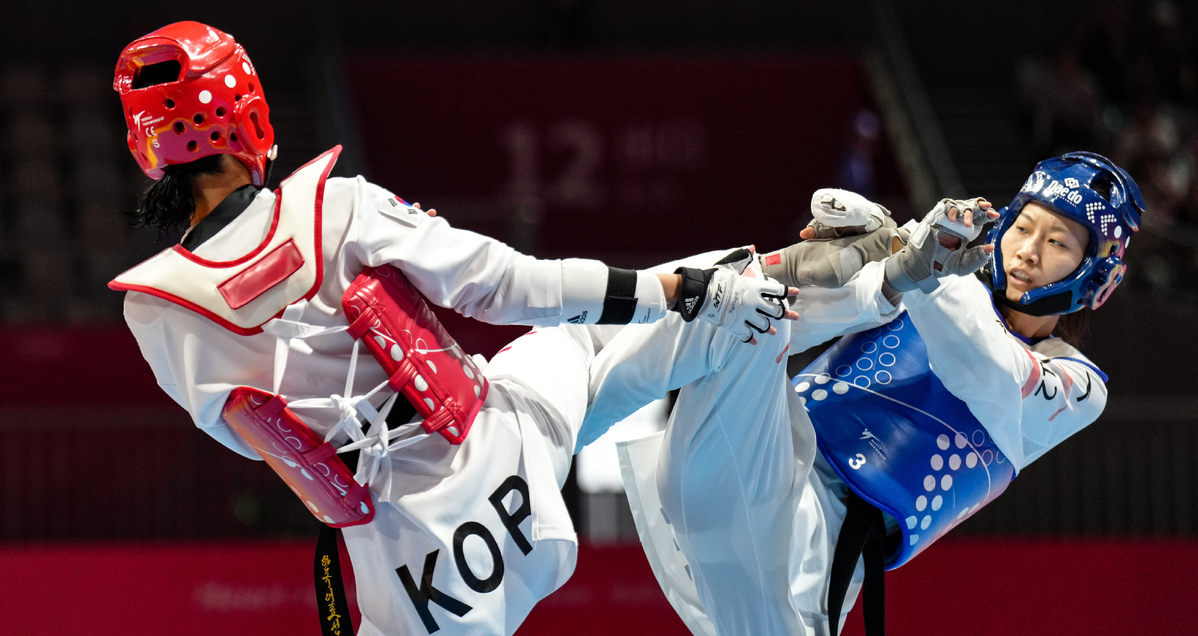 At the golden age of 25 and with a height of 1.83 meters, Chinese taekwondo athlete Luo Zongshi looks fearless in the competition arena.
Luo has been a dominant force in the 57kg weight class. She won gold at the 2018 Asian Games in Jakarta, the 2022 World Taekwondo Championships in Guadalajara, and the 2022 Asian Taekwondo Championships in Chuncheon.
As top seed in her class at this year's Asiad, she directly entered the competition at the quarterfinals stage. In the quarters and semifinals, Luo defeated Vietnam's Tran Thi Ying Suet and Kim Yoo-jin from the Republic of Korea, respectively, with two clean sheets to win both matches 2-0, successfully advancing to the final. In the last medal event on Tuesday, Luo defended her title by beating Lo Chia Ling from Chinese Taipei in two straight rounds.
After the final, Luo admitted that her mentality is becoming more and more mature.
At the 2018 Asiad, Luo won the championship in one fell swoop. She said that she was an "ignorant"20-year-old at that time: "There are not many things to be afraid of. Like a newborn calf is not afraid of tigers."
"This time, knowing the difficulties, I was bold and fearless," Luo added.
Luo's maturity comes from her confidence. Thanks to her height, she is good at long-distance and high-position moves, executing her rich variety of techniques with the utmost precision.
She has been ranked world No 1 for more than a year. In addition to the 40 Olympic points she will receive for winning the Asian Games title, her tally runs over 100 points ahead of the second-placed competitor. She has grown to become the leader of a new generation of Chinese taekwondo athletes following the retirement of veterans Wu Jingyu and Zheng Shuyin.
Luo, who is low-key and shy off the court, isn't sure if she is ready for such a role, citing the fact that she hasn't got the courage to watch the video of her bouts at the Games, or even her appearance at the postmatch news conference, because the Games have been very stressful for her. "I still dare not watch it. If I can watch these videos easily in the future, then I will be a leader," Luo said.
As for her goal at next year's Paris Olympics, Luo said: "The Olympic championship is my goal, but now I don't think too much about it. The most important thing is to be myself, train well and control my weight."
In her spare time, Luo gets her kicks in an entirely different fashion, playing guitar and skateboarding with her teammates.
Luo said that Chen Ye, China's 15-year-old skateboarding gold medalist, is her idol.
And, for now, after defending her title, Luo is going to take the opportunity to enjoy Hangzhou, one of the most scenic cities in China.
"I want to go to the West Lake to enjoy the beautiful scenery and relax," she said.
Most Popular
Highlights
What's Hot