Finding peace on visiting Shanghai, after 37 years
Share - WeChat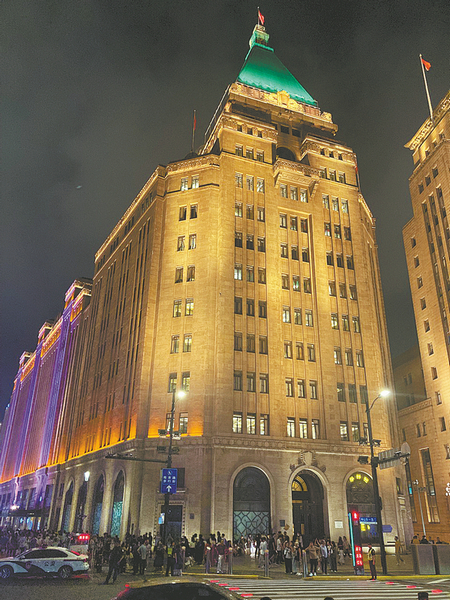 After being mostly confined to Beijing in the past four years, I finally joined my friends on a trip to Shanghai over the weekend. Since there was a time constraint, we decided to fly both ways and leave the high-speed train for another day. When I told my father, who had visited Shanghai from India 37 years ago, about this upcoming trip, he asked me to look for the Peace Hotel and, if possible, send him a photograph of the place.
We stayed at the Jinjiang Metropolo Hotel Classiq, YMCA. I asked a friend who lives in Shanghai about the Peace Hotel and he told me it was a 25-minute walk from there.
Soon after we landed and freshened up, we took a stroll. On the GPS, the Peace Hotel seemed not far from where we were. But every time we walked to a new place, a mall or a restaurant, or some shop selling souvenirs or tea, the GPS showed we had walked further away. I didn't want to force my friends to change our plans, though I did mention once that I would like to see the Peace Hotel.
After we had a dinner of different crab dishes at the landmark Ren He Guan restaurant, we headed for the Bund. We kept walking along the stretch, admiring the skyline and vessels streaming up and down the river. After we had wandered for a while, one of my friends who had lived in Shanghai before pointed at a tall, imposing building and said, "There's your Peace Hotel!" We moved closer and I had a photograph taken in front of it. That is when one of my friends asked, "What's so special about this hotel?"
I told her that my father had stayed there during a trip in 1986, but I had forgotten the details of the trip and had to ask him again. He said in those days it was difficult to book flights the way we can today. He had to go to Qingdao in Shandong province for a seminar, but had no idea how to reach there. With the help of a travel agent in Cuttack, in the eastern Indian state of Odisha, he managed to reach Shanghai. At the airport he was told there were no flights to Qingdao that day and that he should return the next day. He then went looking for a hotel to stay the night but all the hotels seemed packed.
It was cold that October night and he was so tired that when the next hotel turned him away, he parked himself in the hotel lobby telling them, "Either you find me a room or I am going to stay here for the night." They quickly made some calls and inquiries and told him they had found him a room in the nearby Peace Hotel. It was a tall building and he enjoyed his stay until he checked out, when he had to settle a huge bill.
Once he had a room, he took a stroll around the neighborhood and lost his way. He tried to make inquiries, but without a smartphone those days language was a bigger barrier. A man he asked for directions on the street took him to his house, to meet his grandfather. When my dad repeated that he was lost, the old man looked at him patiently before saying, "I have not spoken to anyone in English in ages."
My friends remarked how between me and my father we had done a full circle in a way. But I told them that I still needed to visit Qingdao. That may be next on my bucket list.
Contact the writer at tareq@chinadaily.com.cn

Most Popular