Sabre supremos still at the cutting edge
Share - WeChat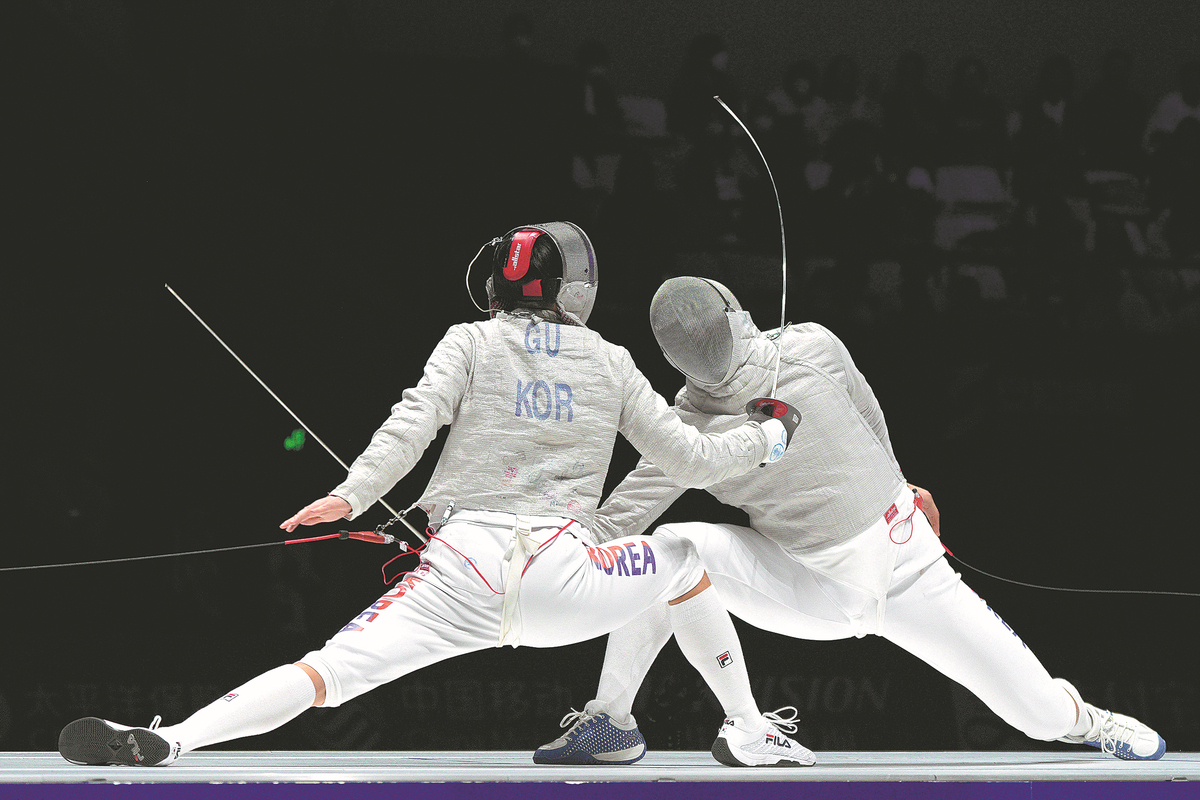 South Korea continues dominance of Asian Games fencing competition with another masterful campaign
South Korea once again dominated the men's sabre at the Asian Games, as Oh Sang-uk and Gu Bongil pocketed the gold and silver individual medals respectively in Hangzhou on Monday.
Now the Korean stars hope to take that momentum into next year's Paris Olympics.
"I am still happy. I am happy for my teammate. It's no problem for me. The fact I didn't get my fourth consecutive gold medal is OK," said Gu after defeat to his teammate in the final.
"I am going to go for a medal at the Paris 2024 Olympics. We are very strong as a team and individually, so that's what I am going to do."
Underlining their dominance in the men's sabre, Gu and Oh reached the final undefeated in Hangzhou.
Between the team and individual competitions, Gu has won five Asian Games golds since Guangzhou 2010, but Monday's 15-7 triumph in the final was Oh's first individual Asiad gold.
"It was very satisfying to avenge my defeat five years ago at the 2018 Jakarta Games, so I am especially happy," said the 26-year-old Oh.
"It was difficult to defeat my teammate. I could not express my happiness after the match because I fought so hard against him. At that time (in 2018) I didn't understand why he cried. Now I understand."
The Koreans are also major medal contenders in men's sabre on the world stage, claiming team silver at the 2023 FIE Fencing World Championships in Milan in July.
The squad won four gold medals at the 2017, 2018, 2019 and 2022 editions of the worlds, as well as team gold at the Tokyo Olympics.
As a star veteran of the squad, 34-year-old Gu now values team glory more than his individual achievements, and is happy to see his younger teammate rise to prominence.
"I could have won my fourth consecutive championship title, but the challenge itself is an honor for me. I didn't make it, but I don't regret it," said Gu.
"I'm proud of Oh and I'm happy for him. Trying to reach the final from the preliminary round has been pretty stressful for me. In the end, I was just content to compete. It was a relief actually."
Gu is confident about his team's chances at next year's Olympics.
"We need to adjust, but we're all in good shape, and in Paris we'll look to win the gold medal," he said.
"I didn't manage to collect my fourth consecutive gold medal here, but it's still my ambition to win titles. Even if I can't be as competitive in the individual event, as long as the team performs better, that is OK by me. I hope our team performs well."
However, there are challenges for the South Korea team.
Gu survived a major scare in the quarterfinals when China's Shen Chenpeng took control of the match. Leading 14-10, Shen was on the brink of advancing before Gu pulled off a dramatic comeback to win 15-14.
It was heartbreak for Chen, but for many of the fencers in Hangzhou simply getting the chance to test themselves against the all-conquering Koreans is a joy.
"I feel very happy because it's my first senior medal. I lost to one of the biggest champions in Gu and I'm so happy with what I've achieved. It's the first time I've had a medal at the Asian Games," said Yousiff Alshamlan of Kuwait, who won bronze.
"He is an Olympic champion in the team event, and he was too tough for me. I'm happy with my overall performance. My coach and team were happy, as it's Kuwait's first fencing medal at the Asian Games. We'll be going for another one in the team event."
The other bronze medalist, Mohammad Rahbari Koyakhi of Iran, who was defeated 15-11 by Oh in their semifinal, echoed those sentiments.
"My opponent has experience of being at international events and has won international and world titles, so he is so much more experienced than me. It was no surprise he won," said Rahbari Koyakhi.
"I am so happy, I wish I could have had a different-colored medal, but my opponent is an Olympic champion. Of course, I came to win but I gave it my best shot.
"Fencing is a sport in which seconds matter. If you don't have the necessary concentration, you'll fail to produce your best."
Most Popular
Highlights
What's Hot