Comeback queen Ye goes with the flow
Share - WeChat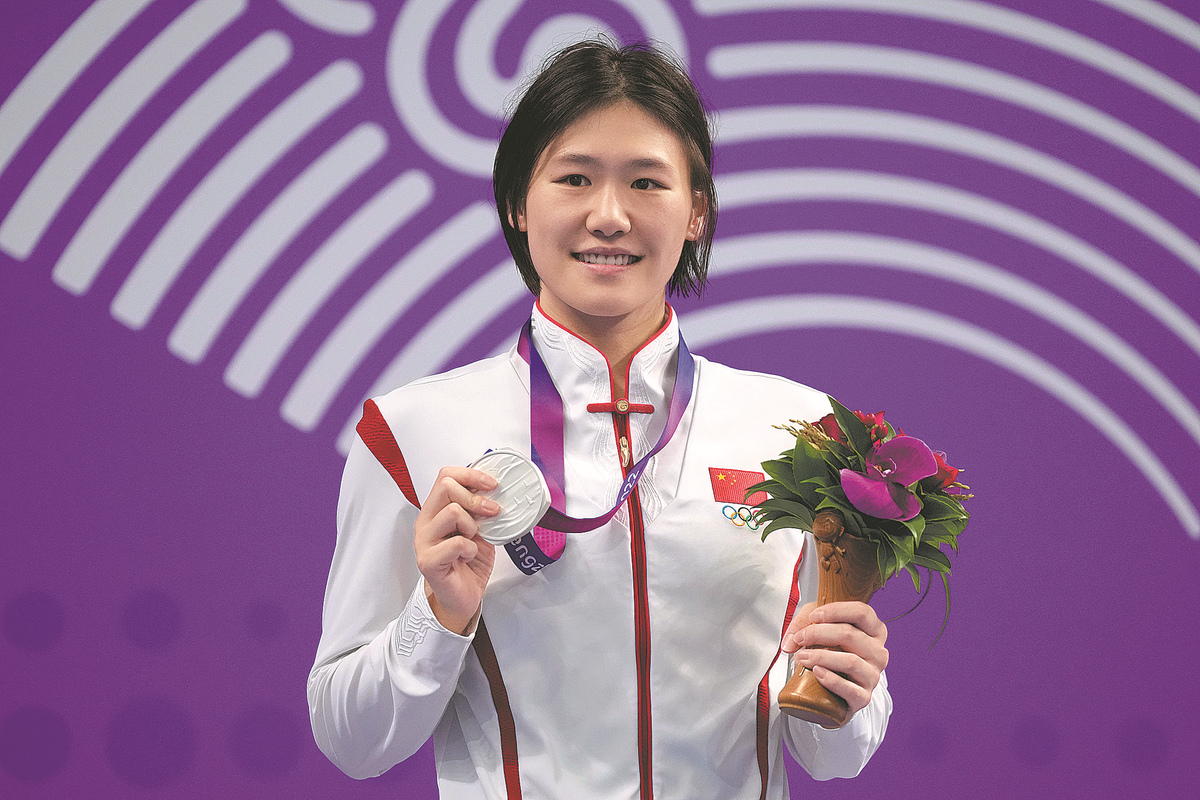 HANGZHOU — For China's Ye Shiwen, competing against her younger counterparts at the Hangzhou Asian Games is a daunting task. Yet, winning a gold medal is no longer her primary objective.
At 27, Ye outpaced South Korea's Kim Seo-yeong to secure a silver in the women's 200m individual medley on Monday night. The gold was clinched by her 18-year-old teammate Yu Yiting.
"Although I was a little bit slower than I expected, I am still very happy to take a silver here. The home crowd gave me encouragement," she said.
Ye, who hails from Hangzhou, burst onto the international scene at the 2012 London Olympics where she won the women's 400m individual medley in a then world-record time. Her final lap in the event was even faster than that of men's champion, Ryan Lochte of the United States. She also secured the 200m title.
However, her performance waned at the 2016 Games in Rio de Janeiro, where she candidly spoke of the "heavy mental pressure" she faced.
"I was afraid of defeat at that time and I was troubled with my ankle injury," Ye said of her Rio 2016 performance, where she placed eighth in the 200m final and didn't qualify for the 400m final.
She took a year-long break from swimming and began her academic journey at Tsinghua University, majoring in law. Recognizing her deep-rooted passion for swimming, Ye returned to the pool. She won silver medals in both the 200m and 400m medley at the 2019 world championships but didn't qualify for the Tokyo Games.
With the Asian Games taking place in her hometown, Ye was motivated to return to competitive swimming. She embarked on her second comeback earlier this year, but with a fresh outlook.
"I still have passion for the medley and breaststroke," said Ye, who these days cuts an altogether more relaxed and happy figure. "I had to tell myself all the time 'you are very strong' in my first comeback, but this time I don't need to do that."
"Winning is not the most important thing for me anymore," added Ye. "Now I enjoy myself in the pool and I like the atmosphere of competition."
No longer singularly focused on victory, Ye exudes a sense of calm and confidence.
"I have already identified aspects to work on, and I will make improvements in winter training," she said.
Xinhua
Most Popular
Highlights
What's Hot