HK fencing legend makes his point
Share - WeChat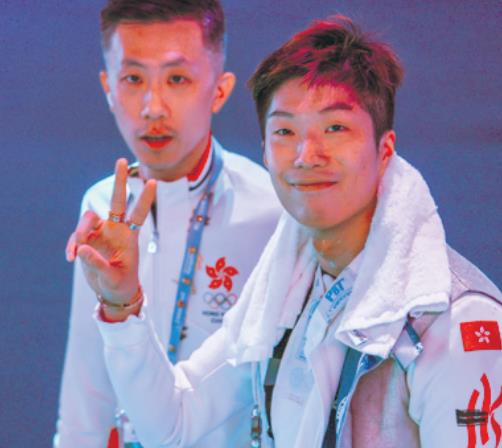 After reaching life's pinnacle at such a young age, how does an athlete approach the subsequent fame, expectations and pressure? And how do they find the motivation to climb to new heights?
Edgar Cheung, a fencer from Hong Kong, China, has been searching for the answers to these questions since his historic victory at the Tokyo Olympics in 2021, and found them with a brilliant performance at the 19th Asian Games in Hangzhou.
Olympic champion, grand slam hero, Hong Kong's top fencer — when it comes to Edgar Cheung, all of these statements apply. After winning the fencing foil final at the Asian Games on Sunday, the 26-year-old has secured gold medals in every Asian competition.
After battling confusion and self-doubt, eventually, he came to realize that the correct mindset is the best solution.
No victory comes easily — during Sunday's semifinal bout, Cheung had faced a stern test from Japan's Takahiro Shikine. Trailing 12-14, Cheung staged a remarkable comeback, winning three consecutive points to secure a thrilling 15-14 victory. During the final, he defeated Team China's Chen Haiwei with a huge scoreline of 15-2.
Cheung became the first athlete from Hong Kong to win an Olympic gold since its return to the motherland in 1997. He maintained that success in the following two years, continuing to make history.
In January 2022, he became the first Hong Kong athlete to win the men's foil World Cup; in April, he became the first Hong Kong male fencer to rank first in the world; in July, he won the bronze medal at the World Fencing Championships.
However, he didn't get carried away in the joy of victory. Cheung has maintained a stable mentality, and better understands that beyond more gold medals, he wants to keep learning and pushing his own limits.
That year he also enrolled in the Physical Education and Recreation Management program at Hong Kong Baptist University through the Elite Athlete Development Scheme, hoping to bring new inspiration to his career.
After Tokyo, Cheung was a sensation in his home city and received tremendous levels of attention, receiving floods of calls and messages, while his followers on social media skyrocketed. He also created a "fencing boom", inspiring crowds of parents to send their children to fencing classes.
Leveraging his influence as a fencing icon, he has also devoted time to a local training program for young fencing talent, aiming to develop his successor and encourage more youngsters to discover the sport.
Unless it is for interviews or photoshoots, he doesn't take out his gold medal, he just keeps it wrapped in a cloth bag in a corner of his dormitory.
He says that he is never motivated by gold medals, but the delight of seeking stability from uncomfortable processes.
"I'm not aggressive, but I want to win, even in warm-ups. If I lose, I'll try harder tomorrow," he once said in an interview.
Cheung also understands that losing is normal. Every time it happens, he has a conversation with himself and tries to analyze the reasons. Mostly he finds that improvement comes from a better understanding of himself, and a bad performance is usually the result of a mindset issue.
While his mind is clearly set on winning another gold medal with his team in Wednesday's group competition at the Asian Games, Cheung will also have an eye focused on earning a spot at the 2024 Paris Olympics.
Most Popular
Highlights
What's Hot