Golden duo leagues ahead
Share - WeChat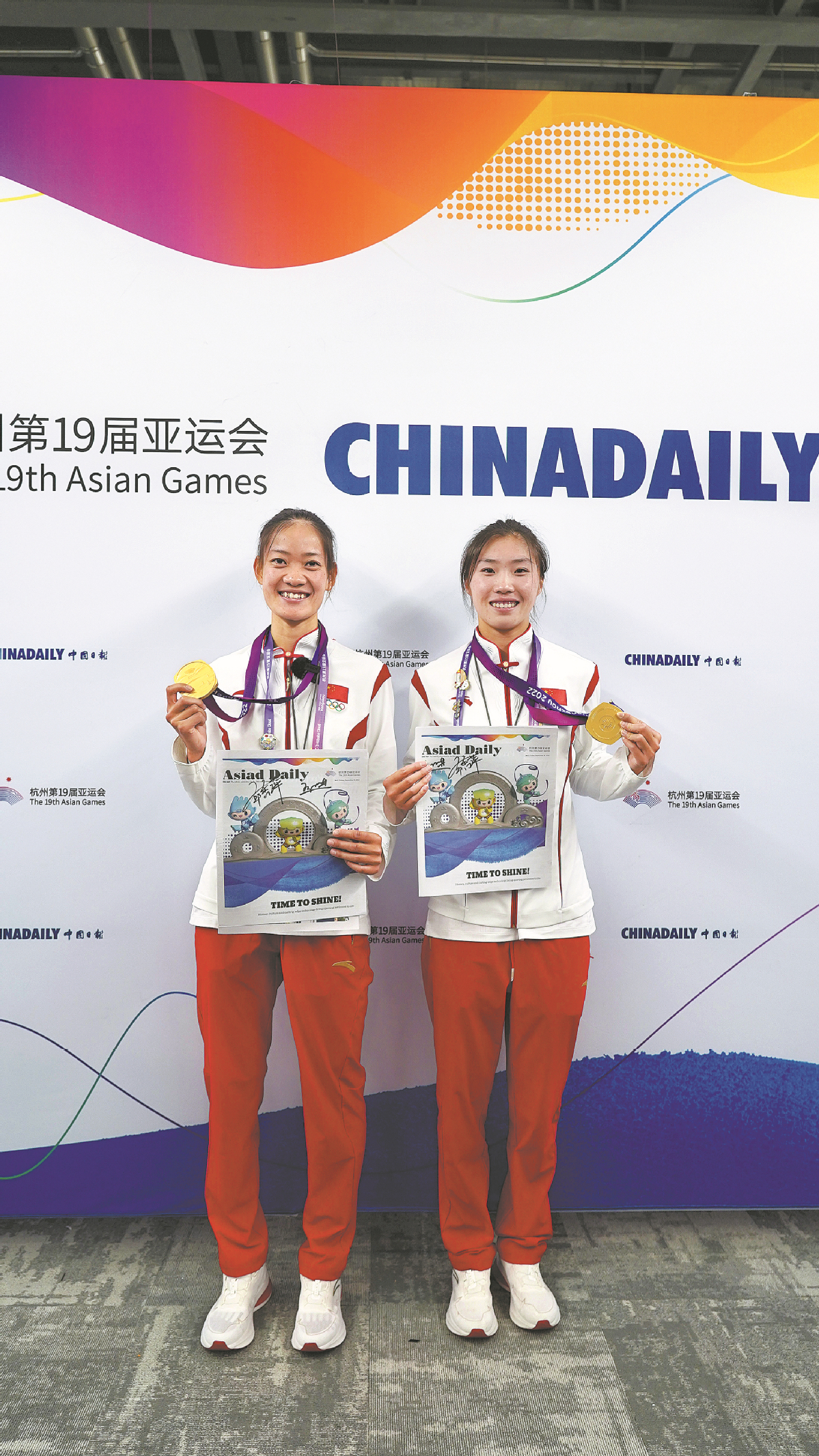 Double sculls pair claims Asiad's first gold medal with emphatic victory
With a huge lead of nearly 10 seconds, Chinese duo Zou Jiaqi and Qiu Xiuping claimed the first gold of the Hangzhou Asian Games, winning the lightweight women's double sculls title at the Fuyang Water Sports Centre on Sunday.
"We are thrilled to win the first gold of the Games. Before the first competition day, we didn't think too much about the result. The most important thing for us was to enjoy the Asian Games as much as possible. I believed we could win," Zou told China Daily.
The duo is now firmly focused on reaching the highest step of the podium at next summer's Paris Olympics.
"As we earned our ticket to the 2024 Olympics, with the help of our coaches, at the world championships, our next goal is claiming the title in Paris," said Qiu.
Speaking of how they managed to win the gold in such style, the two highlighted persistence and experience.
"We have kept pushing ourselves and growing. We have put in a lot of hard work during years of training. I always say we should treat each training session like a major event final, but during an actual final, we just need to consider it one of our daily training sessions. We just need to do our best every single day, and we can achieve our goals," said Qiu.
And for Zou, a native of Zhejiang, the Asian Games gold medal is particularly special.
"Fuchun is my mother river. When I was a kid, I grew up drinking its water, so it feels amazing to win the first gold medal of the Asian Games here. The Fuyang Water Sports Centre is very professional and I hope that more high-level events can be held here," said Zou.
"I want to thank all the people who have contributed a lot to help us get here. I can always feel the love and support of my family, friends and my fellow Zhejiang natives."
The 21-year-old Zou said that she always sees Qiu, who is two years older than her, as a big sister. Zou added that she was the quieter one of the two, but they can both be talkative and excited once they start rowing.
"I'm a very quiet person, but during the training sessions and competitions, I'm not quiet at all. We always encourage each other. In my eyes, my partner is brave, beautiful and persistent," said Zou.
Qiu used the exact same three words to describe Zou. They are a "perfect match" both on and off the water.
"I'm usually the one who talks the most, while she listens patiently. Together we achieve our goals. Although she is quiet, she always offers great suggestions. I always tell others that we are a perfect match for each other," Qiu added.
"We don't only share the samegoals. For instance, during training, if there's an area in which I am not particularly strong, she is always good at it. That works both ways. It's really great to have a partner like her.
"And if people think she's too quiet to encourage me, then they are wrong. She always helps and encourages me during tough times."
Another athlete to shine on the first official day of competition was Chinese wushu star Sun Peiyuan, who won Team China's first gold medal at the 2018 Jakarta Asian Games. He once again reached the top step of the podium by winning the men's changquan title in Hangzhou.
"Compared with the Asian Games in 2014 and 2018, I am a lot more mature. I still remember in 2018, I was so nervous before the start of that competition, but this time, in Hangzhou, I just wanted to enjoy the Games as much as possible," said the 34-year-old Sun, who won his first Asian Games gold at Incheon 2014.
"Among all three golds that I have won, this is the most special. I was so confident when I stood on the mat, surrounded by the home crowd.
"I want to promote wushu, so that more people can learn about, and embrace, the sport. I hope that one day wushu will be added to the Olympic program," he said.
Most Popular
Highlights
What's Hot