Olympic seal of approval
Share - WeChat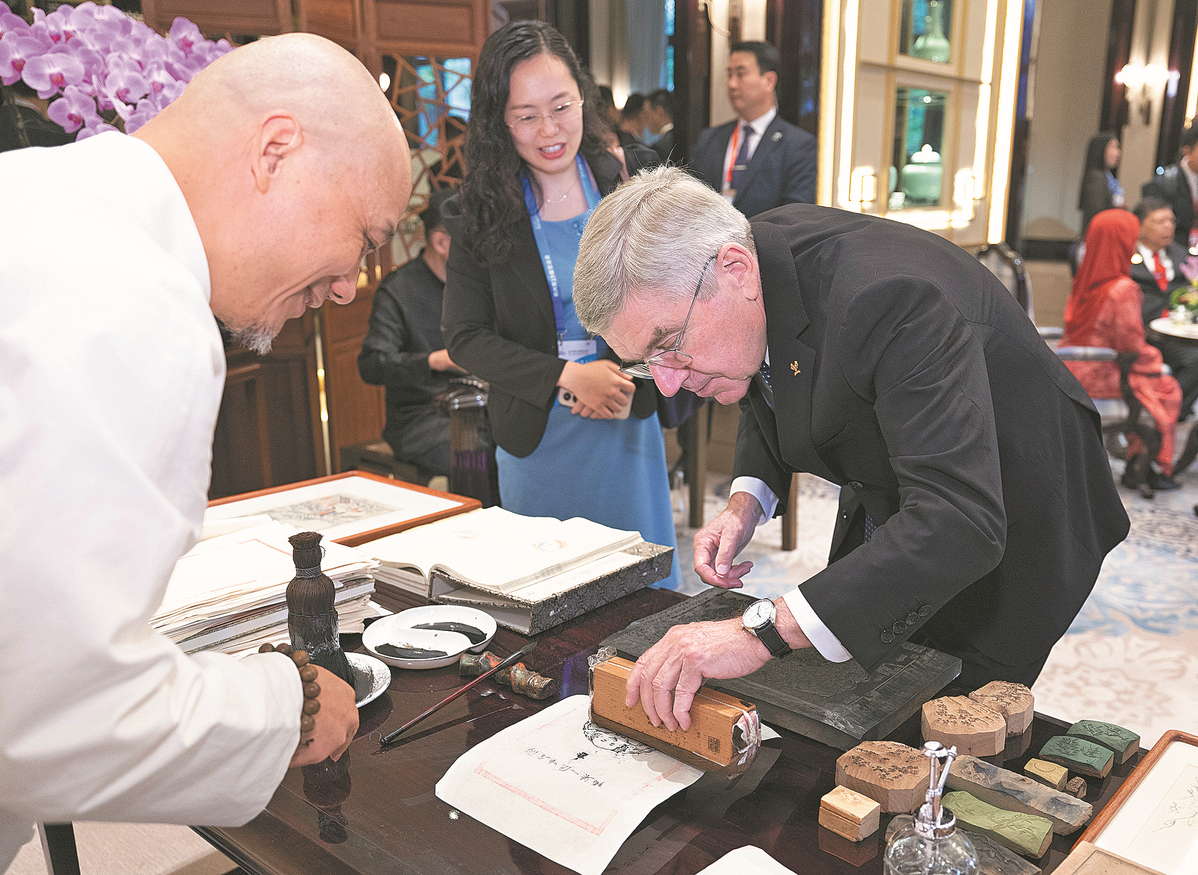 IOC president Bach mightily impressed by Hangzhou's 'world-class' Games
Exchanging commemorative pins with athletes and greeting volunteers with pats on the back, International Olympic Committee President Thomas Bach looked as happy as everyone in the Asian Games Village.
After taking a tour across the village ahead of the opening of the 19th Asian Games on Saturday, Bach said he was in no doubt that the continental sporting gala will be a great success.
"We can look forward to the Asian Games Hangzhou, which will set new standards in many different respects," the IOC chief said after the Saturday morning visit.
"We are seeing a great number of new sports. We'll see an organization that is making use of all the digital expertise in Hangzhou.
"We can look forward to Games which will be organized in a very sustainable way with the reduction of the carbon footprint and an extensive waste management system."
Despite incessant rain, Bach spent plenty of time touring the village, where nearly 12,500 athletes from all 45 national and regional Olympic committees in Asia are calling home over the next couple of weeks.
He first stopped by the service center to personally express his gratitude to all the volunteers, writing a good-luck message on a volunteer uniform before enjoying a dance performance.
"Thank you again for all the work you are doing, for your big smiles that make everybody happy," he told volunteers.
Bach then met athlete representatives and delegation chiefs, encouraging them to make the best of the world-class facilities in Hangzhou to realize their athletic dreams.
"We can look forward to Games which the athletes will enjoy," Bach said of the feedback he received from delegations.
"They are extremely happy with the conditions here in the village, most importantly with the food. And they are looking forward to shining at the venues of these Asian Games, which are simply stunning.
"All this combines with Chinese efficiency and hospitality in organizing and the big smiles of the volunteers. So we can really look forward to a great event."
During his meeting with athletes, Bach also shared his expectations for next year's Paris Olympics with Chinese tennis star Wu Yibing, adding that the rise of young talents like Wu would help make the tennis event in Paris more exciting.
"I am happy to see and hear that Chinese tennis is growing and getting more and more popular. So you can be happy about it and look forward to the future with confidence," Bach told Wu, who became the first Chinese man to lift an ATP singles title in February.
Wu, a native of Hangzhou who is expected to contend for gold on his home court, presented Bach with a traditional Chinese paper fan with calligraphy as a gift.