Hangzhou hero beams with pride
Share - WeChat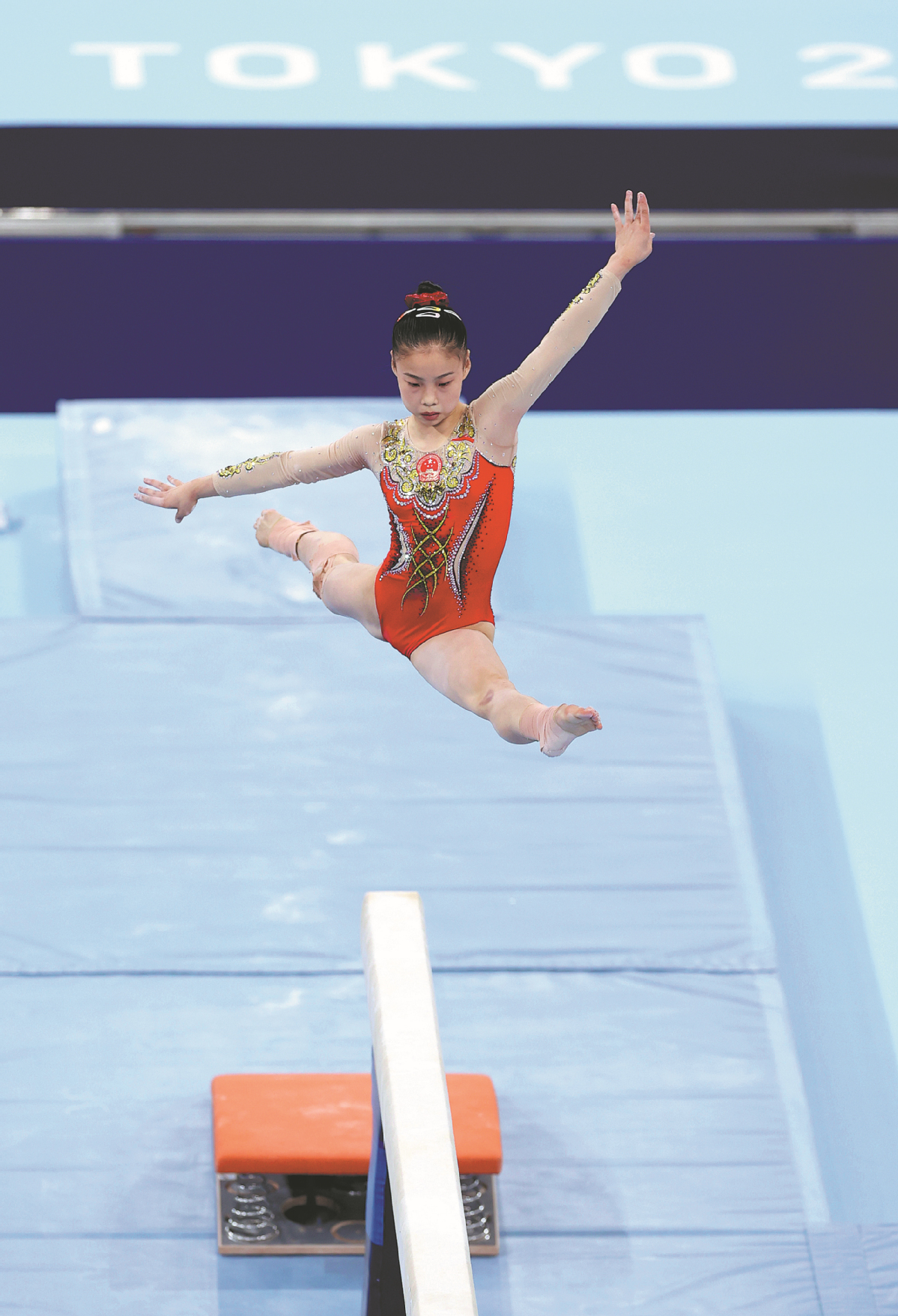 Olympic champion gymnast Guan Chenchen hails hometown Games
As a resident of Hangzhou, Olympic champion gymnast Guan Chenchen is thrilled to see athletes from all over Asia gather in her hometown for the continent's biggest sporting gala.
The 19-year-old hopes that all the competitors will hit their targets at the Asian Games — but, most of all, enjoy the experience in one of China's most scenic cities.
"I wish the Hangzhou Asian Games great success, and I hope all the athletes can realize their dreams in Hangzhou," said Guan who is now studying as a sophomore student at Zhejiang University after retiring from the national team.
"To the young athletes making their debuts at the Asian Games, I hope you can compete without too much pressure. You shouldn't worry too much, just be brave and try your best to charge forward. Think less, and you will win more."
Guan became a household name in China after winning the women's balance beam gold medal at the Tokyo Olympics, but in 2022 left the national team to pursue her academic studies. As tough as training was back then, Guan admits she often pines for her former life.
"I really miss my coach and my sisters in the national team. I text them a lot and always tell them to chill out and don't let the pressure get to them," she said.
Guan never competed at the Asian Games as an athlete, but finally got the chance to participate this year — as one of the torchbearers.
"I'm so happy and proud to participate in the event in this way. This is also great recognition for me," Guan told China Daily.
"The atmosphere in Hangzhou for the Games is really special — in fact, it makes me want to start training and compete again!"
Guan was born in Hubei province, but now considers Hangzhou her hometown. After training in the Zhejiang capital for years, she eventually became a resident and currently attends university there.
As someone who's well acquainted with the city's wealth of attractions, she has plenty of recommendations for visitors to the Games.
"It's a totally new experience in university and I have more time to explore new things, especially the city of Hangzhou," Guan added.
"The West Lake, for instance, is such a serene and beautiful place. Any time I'm stressed out, I go there to unwind and clear my mind. So I urge friends from across the nation, and those from all over Asia, to visit the lake area and immerse themselves in the city's beauty. There are so many special places to explore in Hangzhou. "
Guan plans to keep a close eye on the artistic gymnastics competitions, which begin on Sunday, hoping, of course, for home glory.
"I keep close contact with my former teammates and some younger athletes. I know how hard they have trained for the Games, and I always send them messages of encouragement," said Guan.
Like the rest of the nation, she's also anticipating big things from the host team in a number of sports, singling out two fellow Chinese Olympic champions as ones to watch.
"I'm also interested in events like diving, swimming, rhythmic gymnastics, table tennis and badminton. I really like swimmer Wang Shun and diver Quan Hongchan. I wish all of them the best of luck at the Asian Games," she said.
She also hopes to soak up the atmosphere of the Games at Hangzhou's state-of-the-art venues, which she describes as "very beautiful".
Although she no longer competes for the national team, Guan helps younger athletes. As a keen promoter of gymnastics, Guan hopes the Asian Games can attract more youngsters to the sport — and physical exercise in general — and consequently reap the many benefits it brings.
"Sports and artistic gymnastics have taught me a lot. I have learned how to be independent and how to become a better person — more responsible and more determined," she said. "I hope more people can join us."
Most Popular
Highlights
What's Hot