CCUS highlighted for oil, gas firms amid green transition
Share - WeChat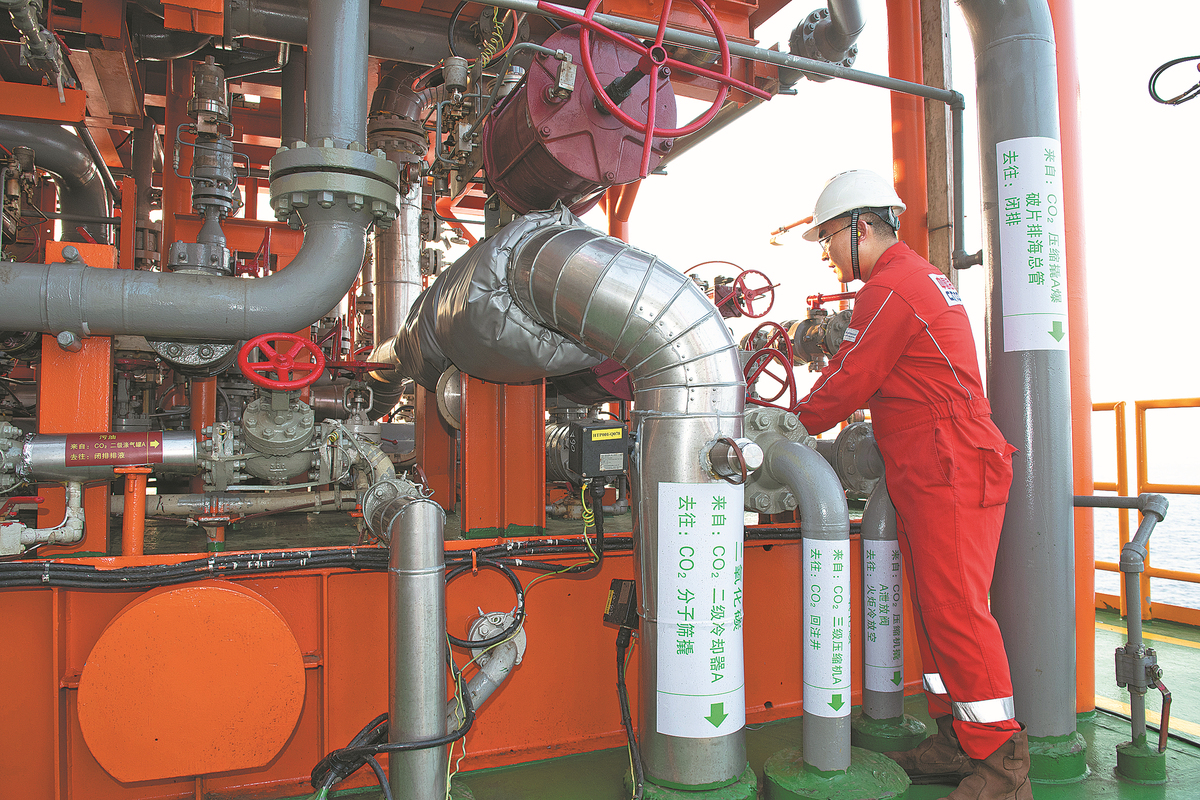 Technology to help China reduce 1 bln tons of emissions annually by 2050
Domestic oil and gas companies should accelerate moves to develop carbon capture, utilization and storage (CCUS), an essential safeguard technology for helping achieve carbon peak and carbon neutrality in China, as the country sees vast potential in carbon dioxide-enhanced oil recovery, according to a think tank.
Seen as a crucial aspect of the decarbonization efforts in the oil and gas sector in China and worldwide, the number of CCUS projects in the pipeline in China has risen significantly in the past few years, according to the CNPC (China National Petroleum Corp) Research Institute of Safety and Environmental Technology.
CCUS has become a focus area for China's oil and gas companies, offering a significant opportunity for China to achieve a carbon dioxide peak before 2030 and carbon neutrality before 2060, said Yong Ruisheng, vice-general manager of the institute, during the release of the Green and Low-carbon Transformation Report of Oil and Gas Companies.
"China has a carbon dioxide-enhanced oil recovery potential of approximately 5.1 billion metric tons, which provides early low-cost opportunities for carbon emissions reduction. Additionally, the geological storage potential is estimated to be around 12.1 to 41.3 trillion tons, serving as an important pathway for achieving deep carbon dioxide emissions reduction," Yong said.
"It is projected that by 2050, the annual emissions reduction achieved through CCUS could reach approximately 1 billion tons in China and technology will further accelerate domestic oil and gas companies' transition to an integrated energy corporation and promote industrial growth."
It is projected that by 2030, the average global annual carbon dioxide emissions reduction from CCUS technology will be around 490 million tons. By 2050, the estimated CO2 emissions reduction from CCUS technology is expected to reach 2.79 to 7.6 billion tons per year, with an average of 4.66 billion tons per year, he added.
Yong said despite a late start in the low-carbon transition, Chinese oil and gas companies are already accelerating and leading in some aspects of the green transition after making efforts in recent years.
Many oil and gas fields are researching and promoting CCUS technologies, as well as carbon sinks and carbon trading mechanisms, to offset carbon emissions and realize zero-carbon production, he said.
China Energy Investment Corp started operations in June at Asia's largest CCUS facility, which is attached to a generating unit at the company's Taizhou coal-fired power plant in Jiangsu province, which will capture 500,000 tons of carbon dioxide each year.
China National Offshore Oil Corp kicked off the operation of the country's first offshore carbon capture and storage demonstration project in the eastern waters of the South China Sea in June, filling the gap in China's offshore carbon capture, treatment, injection and storage technology, while State-owned energy company China Petrochemical Corp last year launched a 1-million-ton-per-year CCUS project, the country's largest so far, at one of its oil refineries in Shandong province.
Domestic companies have also embarked on the green transition journey in recent years with overseas partners to step up the implementation of CO2 injection technology to extract crude from aging oil fields — also known as enhanced oil recovery — using their numerous empty and mature oil and gas reservoirs to transform them into a carbon storage hub, seeking to lead the efforts with their decarbonization moves.
The International Energy Agency data show that the number of CCUS projects in different stages of development worldwide more than doubled from 89 in 2020 to 195 last year.
Global energy consultancy Wood Mackenzie said in a recent note that the planned global CCUS capacity pipeline has reached 905 million tons per year, with more than 50 new projects announced this quarter alone. China and Southeast Asia are forecast to have the biggest demand for CCUS in the 2040s, it said, adding that the development also requires further regulatory and policy implementation.
The biggest challenge for CCUS adoption is the lack of related policies and regulations in most countries, Lucy King, Wood Mackenzie senior research analyst, said in a note.
zhengxin@chinadaily.com.cn