Smart garners $150 million investment from Tianqi Lithium
Share - WeChat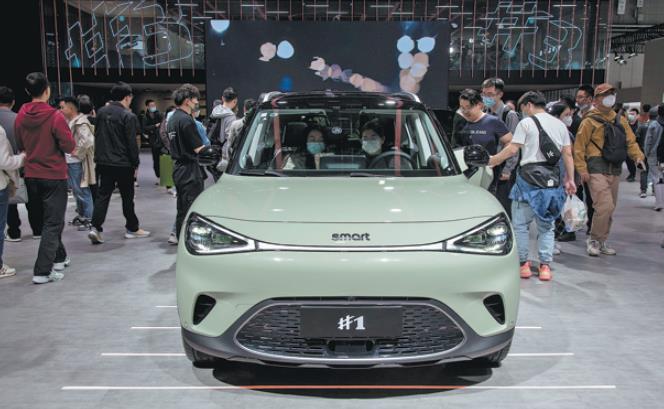 Electric marque smart, a 4-year-old joint venture between Geely and Mercedes-Benz, secured strategic investment of $150 million last week from China's leading lithium miner, Tianqi.
The deal between the carmaker and the miner of lithium, which is an important ingredient in electric vehicle batteries, are expected to complement each other's advantages in their respective markets, said analysts.
Tong Xiangbei, CEO of smart, said: "We have not only reached a financial cooperation but will also take the advantages of the upstream and downstream reaches of the supply chain to create industrial synergy."
Jiang Weiping, founder and chairman of the miner, said the investment in smart is the first time that Tianqi has established relations with companies in the downstream end of the industrial chain.
"This will further deepen our understanding of the new energy industry chain," he said.
In July, smart announced a Series-A funding plan to raise $250-300 million, saying that it would be led by Tianqi.
The carmaker said the cooperation will enhance its long-term sustainable development strategy and accelerate its global development.
It added that its parents, Mercedes-Benz and Geely, support the fund-raising plan and will remain equal control shareholders.
Also last week, Tianqi signed a strategic deal with Geely, according to which the two will work on core materials, lithium battery technology, lightweight materials for new energy vehicles and software development.
Analysts said the investment in smart also opens up the possibility of Tianqi entering Mercedes-Benz's list of suppliers for its forthcoming fleet of EVs, as the German carmaker is speeding up its efforts to go electric.
Such a tie-up will help lithium suppliers to secure a long-term client and provide NEV makers with stable raw material supplies, they said.
Similar investments were made by another major lithium industry player, Ganfeng Lithium, which has invested in NEV makers GAC Aion and Dongfeng's premium marque Voyah in the past few years.
Following the comprehensive renewal, smart, which was established by Mercedes-Benz in 1998 to specialize in urban mobility, has entered a new era of full-speed global operations.
The joint venture's first model, the smart #1, is being sold in China, Germany and France.
Its coupe SUV, the smart #3, hit the Chinese market in June. It will enter European markets in early 2024.
In the first half of this year, smart delivered 23,540 units in China, achieving a leading position in its segment. In Europe, the first batch of deliveries started in March and will ramp up shortly.
The brand said on Friday that it has inked a deal with Colmobil to explore the Israeli market. Its smart #1 will go on sale later this year and the smart #3 will follow in 2024.
Colmobil, a leading auto importer in Israel, is also a Mercedes-Benz dealer in the Middle Eastern country.