Journalists from home and abroad explore transformation of China's industrial heartland
Share - WeChat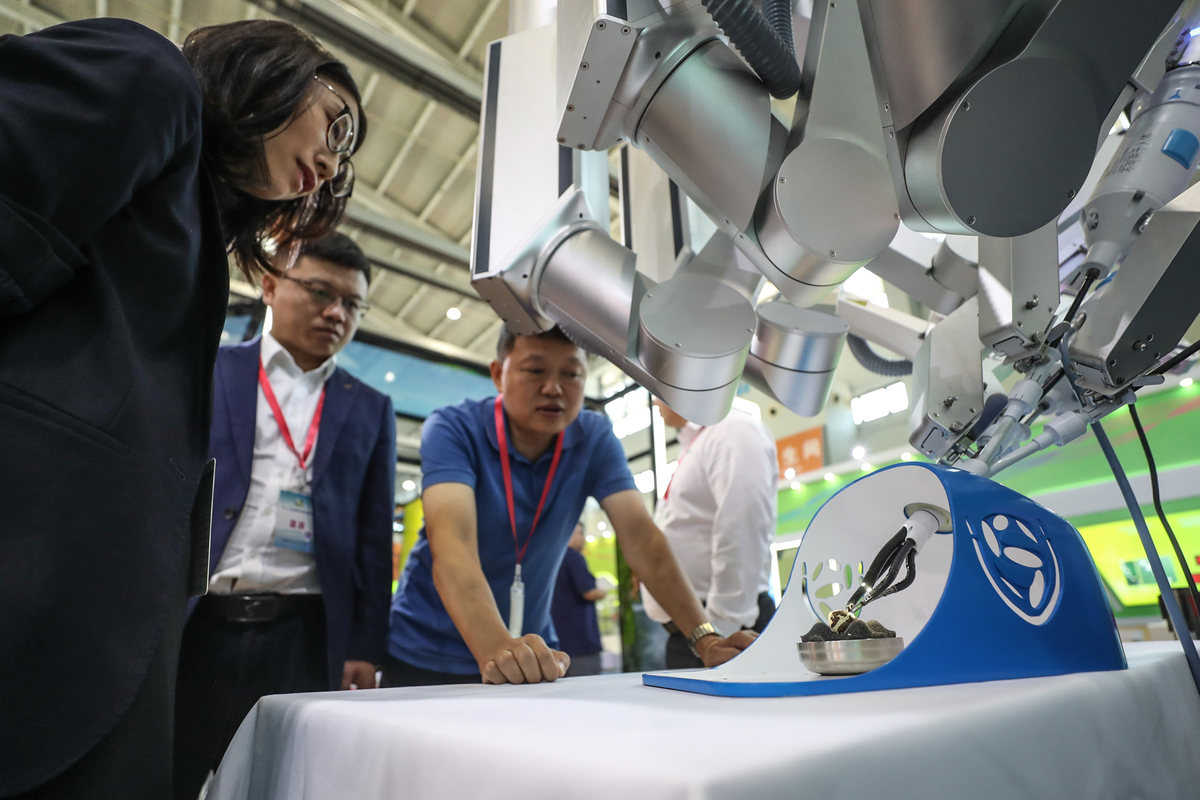 SHENYANG - After showing a group of visitors around a production plant operated by the Northern Heavy Industries Group Co, Ltd (NHI) in Shenyang, Northeast China's Liaoning province, senior engineer Liu Zhiyang stood beside a massive tunnel boring machine to answer questions.
One visitor asked in Chinese about the machine's size. Liu, who oversees NHI's tunnel boring equipment division, replied that it was 90 meters in length with a diameter of about 6.4 meters.
Another asked in English about the machine's production time and, once he had received a prompt translation, Liu responded that it was six to eight months.
This sparked further questions about its price, market share and technological innovations, as well as inquiries about NHI, a prominent player in the heavy machinery manufacturing industry in China and beyond.
Several such hands-on visits have occurred across Liaoning over the past week. They are part of a four-day interview trip the State Council Information Office of China organized for over 30 journalists from 19 domestic and international media outlets, aiming to encourage them to explore the transformation of China's major industrial base.
Liaoning is home to a quarter of the country's iron ore reserves and has long been a leader in China's petrochemicals, metallurgy, forging and equipment manufacturing sectors.
In recent years, the province has accelerated its development of high-end, intelligent and green manufacturing. According to the provincial department of industry and information technology, the value added in Liaoning's high-tech manufacturing industry increased 8.3 percent year on year from January to July, and 20 fully connected 5G factories were established during that time.
The China-Germany High-End Equipment Manufacturing Industrial Park (CGIP) is a prime example of Liaoning's development. Since its establishment in 2015, CGIP's economic output has doubled. In the first half of 2023, its gross industrial output value grew 27.8 percent to 481.5 billion yuan ($61.84 billion).
CGIP is also home to the new Shenyang International Pump Track Park, where dozens of bikers and skateboarders could be seen training during the media trip, giving the reporters cause to stop and watch their activities.
Due to its location, Liaoning also acts as an economic hub of Northeast Asia and a vital gateway for the country's northward opening-up. The Dalian Area of China (Liaoning) Free Trade Zone has played an important role in attracting foreign investment and promoting foreign trade. It has achieved a cumulative regional GDP of 329 billion yuan since its establishment in 2017, with an average annual growth rate of 7.1 percent.
"It gathers one-seventh of the province's foreign-funded enterprises and accounts for one-seventh of the province's total import and export volume," Fu Qiang, deputy director of the zone's administrative committee, said at the zone's comprehensive services center.
On the 50th floor of the Dalian Commodity Exchange (DCE) building, journalists were treated to breathtaking aerial views of the coastal city of Dalian. In 2022, DCE achieved a trading volume of 2.3 billion contracts, ranking ninth globally. It has become an important global futures market for agricultural products, plastics, coal and iron ore.
Several companies the journalists visited also showcased Liaoning's capabilities in the development of high-quality manufacturing and the expansion of the province's economic reach. Among these companies were SIASUN Robot & Automation Co, Ltd, which engages in intelligent manufacturing, and the Dalian Bingshan Group, a leader in the refrigeration and heating sectors.
At Dalian Rongke Power Co, Ltd, reporters were intrigued by the colorful electrolytes on display, prompting questions about the extraction of raw materials and the efficiency of energy storage. "We have built the world's largest intelligent manufacturing base for vanadium flow battery energy storage equipment," said Wang Xiaoli, the company's general manager. "Our product is widely utilized in areas such as grid peak shaving, grid connection of renewable energy, and industrial and commercial microgrids."
Though their trip focused on industrial development, the journalists also had the opportunity to experience the province's culture and natural beauty. They watched the renowned Liaoning Ballet Troupe perform segments from their upcoming production of "Notre Dame," created in collaboration with foreign choreographers. And in the city of Panjin, famous for its rice and crabs, journalists strolled along Red Beach, which is known for its landscape featuring the red plant Suaeda salsa.
The trip had a profound impression on many of the foreign journalists. Some admitted that prior to their visit to Liaoning, they had envisioned a skyline filled with smoke-spewing chimneys, only to be pleasantly surprised by the contemporary urban vistas they encountered -- especially in Dalian.
Li Kai, deputy head of the China Academy of Northeast Revitalization, was an invited participant in the journey and found himself engaged in a flurry of inquiries from journalists every day, particularly those from the United States, Japan, France, and Singapore.
"The foreign journalists were very eager to know more about Liaoning and the revitalization of northeast China. They posed a variety of questions that gave me a lot of inspiration," Li said.