Airline to use 3rd C919 for new flights
Share - WeChat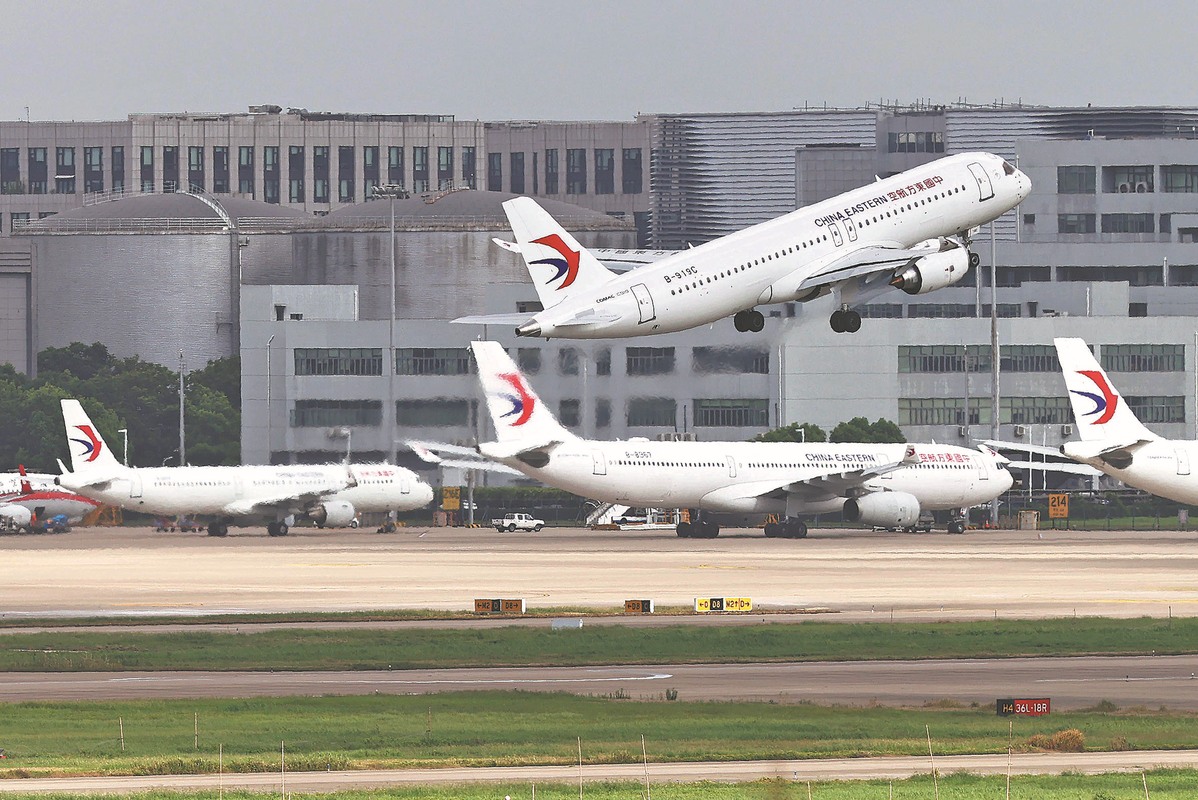 Commercial Aircraft Corp of China, or COMAC, will deliver the third Chinese-developed C919 aircraft next month to China Eastern Airlines, sources at the Shanghai-based airline told local media.
"China Eastern is scheduled to receive its third C919 in October, and a few more new flights are going to be launched before June next year, to enable more Chinese passengers to take flights on the Chinese-developed passenger aircraft," an executive in charge of the airline's aircraft operations was quoted as saying by local media Jiefang Daily on Thursday.
China Eastern said it plans to expand commercial services of the C919 to more Chinese cities.
The C919 is China's first self-developed trunk liner with international airworthiness standards and owning independent intellectual property rights, comparable to the Airbus A320 and Boeing B737 series.
The first C919 plane was delivered to China Eastern Airlines in December 2022. The aircraft's maiden commercial flight was from Shanghai Hongqiao International Airport to Beijing Capital International Airport on May 28.
With 164 passenger seats, including eight in the business class and 156 in the economy section, the first C919 has been in use for commercial flights between Shanghai Hongqiao International Airport and Chengdu Tianfu International Airport in Sichuan province.
Since Thursday, the second C919, which was delivered to China Eastern on July 16, joined the first one for daily flights between Shanghai and Chengdu, according to information on the public domain.
Lin Zhijie, an aviation analyst, said he has learned from industry sources and travel agencies that many Chinese flyers book C919 flight tickets just to experience the homegrown jet.
Lin, who contributes a column to carnoc.com, a well-known aviation website, said he expects the C919 to make the industry more competitive, thereby promoting the healthy development of the world's civil aviation market.
Zheng Hongfeng, founder and CEO of VariFlight, a provider of aviation data and related solutions, said China is entering the stage of having more Chinese-developed jets.
As C919 flights increase, the experience gathered would help in making future Chinese aircraft safer, thus helping its manufacturer COMAC to meet market demand better, Zheng said.
In an unrelated development, a model of the narrow-body C919 jet has been put on display at the three-day 2023 Inclusion Conference on the Bund that started in Shanghai on Thursday.
The 3.8-meter-long model, which is one-tenth the size of the first C919, features all the details of the jet's appearance, including the "world's first" sign.