Kobe's Clone
Share - WeChat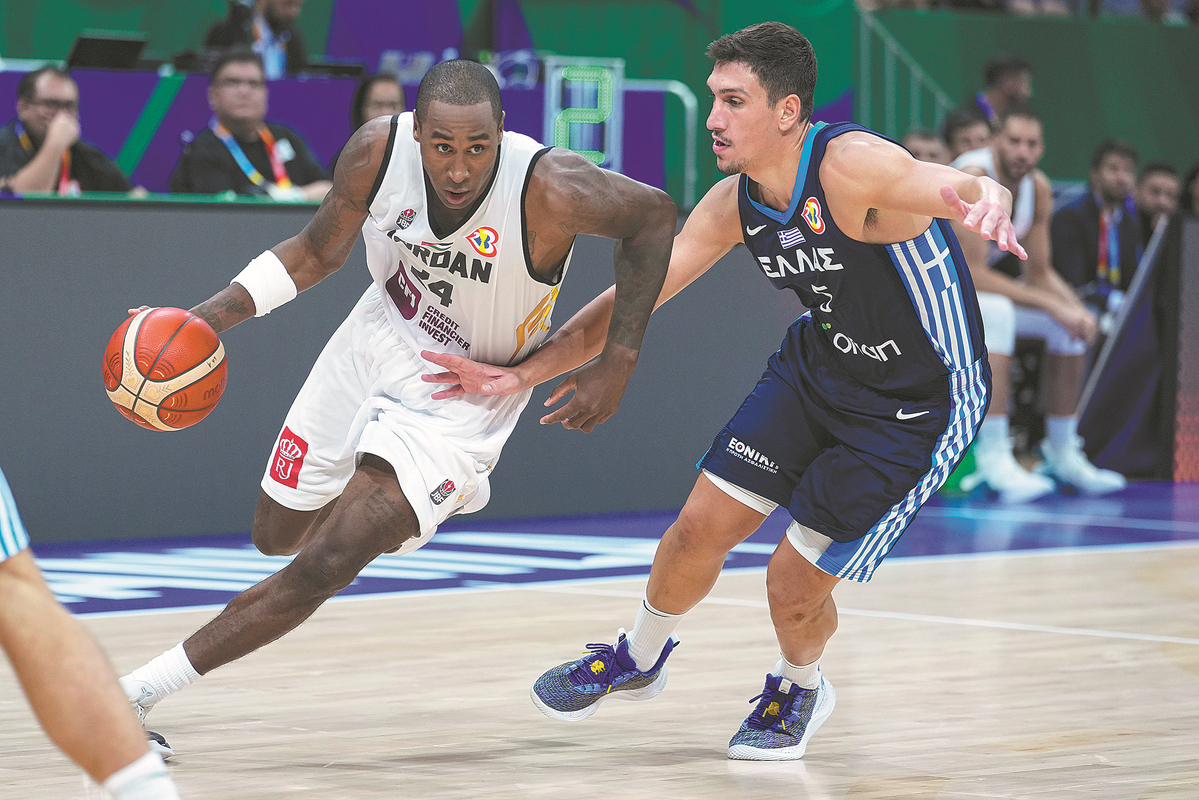 Fans fascinated by World Cup star's resemblance to NBA great
Were it not for the stark difference that he shoots left-handed, fans watching Rondae Hollis-Jefferson play at the FIBA World Cup would surely not believe their eyes.
Sharing the same number, same sneakers, similar haircut and making all the Black Mamba moves to virtually the same rhythm, Hollis-Jefferson's resemblance to the late Kobe Bryant has grabbed the global spotlight at the FIBA showpiece.
Fans are not just in awe of his similar appearance to Bryant — the US-born Team Jordan player's super-competitive game also bears an uncanny likeness to the NBA legend.
Despite Jordan missing out on the knockout stage, Hollis-Jefferson has emerged a tournament sensation in Manila with his prolific performances and intriguing career path capturing the hearts of hoops fans in the Filipino capital, where Bryant and the Los Angeles Lakers enjoy sacred "home team "adulation.
A 2015 first-round draft pick, Hollis-Jefferson spent six years in the NBA in obscurity, mostly with the New Jersey Nets who selected him, before moving overseas in 2021 to ply his trade in the Turkish, Puerto Rican, South Korean and Filipino leagues over the past two seasons.
Out of the blue, a bold decision to represent Jordan, the fifth-ranked Asian team, at the World Cup has propelled him back into the limelight, and has perhaps reinvented his career.
"I wanted to be on this stage. I've played on a lot of stages, but this is one of the biggest. The team is great, everybody is wonderful, I can't complain," said the 28-year-old native of Chester, Pennsylvania.
He has made the most of the showcase to demonstrate a talent that the NBA had never truly embraced.
After scoring 24 points to go with nine rebounds in Jordan's 92-71 opening loss to European power Greece, Hollis-Jefferson stepped up his game in the second Group C game on Monday against New Zealand, where he put on a dazzling 39-point performance against the Tall Blacks.
Still, it was not enough for the Asian underdog to pull off the win at the Mall of Asia Arena, where over 7,300 fans swarmed to the iconic venue on a workday afternoon to witness another Kobe impersonation.
"He looks like Kobe so much and plays like him even more," said Althea Reyes, a 28-year-old diehard Lakers' fan, at the arena.
"He first captured our attention for his look. Now we realize that he plays the game as competitively as Kobe did. That definitely helps him win over more fans here."
As a highlight of the game, Hollis-Jefferson drew rousing "Kobe! Kobe!" chants from the crowd after he knocked down a 3-pointer as he was fouled before converting a resulting free throw to tie the game 85-all with 10 seconds remaining in regulation.
Despite New Zealand prevailing in overtime to secure a 95-87 win, Hollis-Jefferson's game-tying shot triggered comparisons to many of Bryant's signature buzzer-beating moments.
The 1.98-meter guard, who wears a wristband halfway up the forearm as Bryant usually did, says the frenzy he's caused in Manila "means a lot" and "is an honor".
"There definitely was only one Kobe, but to feel that love and that energy coming down the stretch, hitting those big shots — God was with me, and Kobe was with me, for sure," he added.
"At the end of the day, I'm a competitor. Whatever I need to do, whatever the coach needs me to do, that's what I'm willing to do.
"If he needs me to play defense all game, I'll do it. If he needs me to score, pass, at the end of the day it's about winning. Whatever it takes, that's what I'll do."
After sharing the court with Hollis-Jefferson at the World Cup, rising Jordanian star Freddy Ibrahim was full of praise for the quality and drive he brought to the team.
"He's an amazing player. Since he joined us, he's slowly getting better and better with us," said Ibrahim, a 26-year-old point guard.
"He never really forced himself on us in the beginning, which is great, and to see him shine here on the biggest stage is just kind of what you expect from a guy of an NBA caliber. I'm very lucky to share the court with him."
After the first two group games, Hollis-Jefferson had averaged 31.5 points per game, shooting 54.3 percent in the field, to rank second at the tournament only after Slovenian superstar Luka Doncic (35.5 points).
Hollis-Jefferson scored a team-high 20 points to go with seven rebounds and three steals in Jordan's 110-62 blowout loss to the United States in their final group game on Wednesday, with the result of no consequence to either team — but it did have significance for him.
He's hoping his international play this summer can attract some NBA interest.
"I am trying to show that I can compete with the best of the best and bring energy to every game," he said.
According to BasketNews.com, Hollis-Jefferson confirmed on Tuesday that he will re-sign with Manila-based franchise Tropang Giga to continue playing in the Philippine Basketball Association (PBA) league for the 2023-24 season. His contract, however, includes an NBA opt-out clause.
"The (PBA) season ends in February, so I'm open to anyone who wants to call," he said.
Most Popular
Highlights
What's Hot